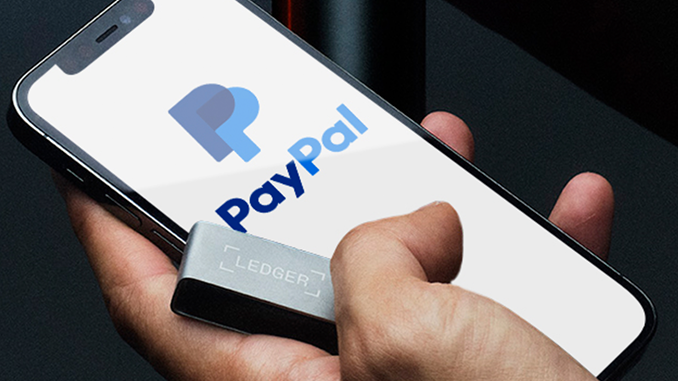 Ledger, the leading manufacturer of hardware wallets, is now offering users the option of purchasing Bitcoin and other cryptocurrencies via PayPal. The service is limited to the US for now, but is expected to come to the EU as well.
Why we strongly recommend the use of a hardware wallet has already been explained here many times, you can find our big market overview here. Those who have already decided to use a Ledger hardware wallet or are planning to do so might be interested in the latest feature, which the French global market leader has now introduced via blog post. With PayPal, the global payment service with its own crypto division has been integrated into Ledger Live. Unfortunately, this service is limited to the US for now, but the convincing concept of combining Ledger and PayPal should be rolled out in the EU sooner or later.
Specifically, it will then be possible to purchase and pay for Bitcoin (BTC), Bitcoin Cash (BCH), Ethereum (ETH) and Litecoin (LTC) via Ledger Live using PayPal. The new crypto funds are then automatically backed up on the hardware wallet, such as the Ledger Nano S or Nano X. This eliminates inconvenient intermediate steps such as purchasing crypto on a crypto exchange and then transferring it to the hardware wallet.
Pascal Gauthier, CEO of Ledger, sums up the cooperation as follows: "We combine Ledger's uncompromising security with PayPal's expertise in secure payments". Ledger holds out the prospect of offering more features together with PayPal in the future. PayPal recently launched its own stablecoin, PYUSD, and there are rumors that it plans to pay interest on balances in PYUSD. This would obviously add a noticeable boost to the PayPal feature on Ledger hardware wallets.
Conclusion: Ledger and PayPal – crypto could hardly be easier
The downside for now is that the combination of a Ledger Nano X or other Ledger hardware wallets with PayPal is not yet available in Germany. In general, however, the duo Ledger with PayPal looks attractive, because most of you should already have a PayPal account, an additional KYC is then not necessary. Buying Bitcoin and Co. at fair market prices and then having them automatically backed up on a Ledger hardware wallet – dealing with BTC, Ethereum, Litecoin and Bitcoin Cash is hardly easier to imagine. We are curious to see what else will come out of this cooperation and hope for a launch of Ledger plus PayPal in this country soon.
---