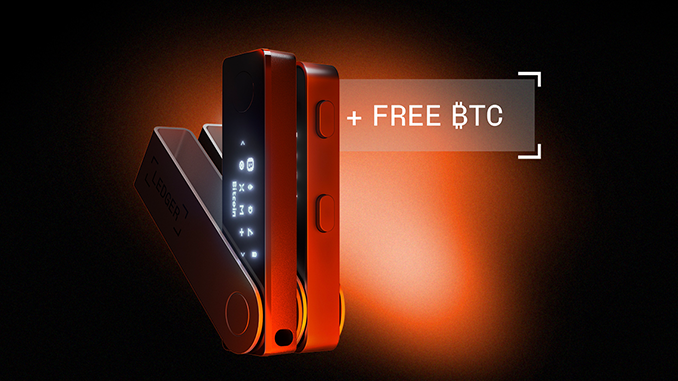 The hardware wallets from the French manufacturer Ledger are the first choice for many investors to safely store their crypto assets. Currently, up to 30 U.S. dollars in Bitcoin (BTC) is available for free with a new purchase.
The bankruptcy of the crypto exchange FTX at the end of last year has once again shown that for responsible investors there is no way around hardware wallets to safely store assets in Bitcoin and Co. under their own control. If you entrust your crypto funds to crypto exchanges and other service providers, you can be caught cold by insolvencies like FTX and lose access if necessary – this cannot happen if you use a hardware wallet. The manufacturer Ledger is currently offering a free bonus in the form of Bitcoin (BTC) for the purchase of a Nano X or Nano S Plus.
Specifically, the offer is as follows: If you buy a Ledger Nano X hardware wallet, you will receive 30 US dollars in Bitcoin for free; if you buy a Ledger Nano S Plus, you will still receive 20 US dollars in BTC. Considering the price of the Ledger Nano Plus at 79 Euros and the Nano X at 149 Euros, the indirect discount of almost 20 Euros and almost 30 Euros, respectively, is quite attractive. The promotion runs until April 18 and and we cannot see a catch to it.
In general, more than 6 million hardware wallets sold by Ledger speak for quality and customer trust. The Ledger Nano S Plus is the entry-level model among the hardware wallets that was retreaded a year ago, while the Ledger Nano X as the premium model scores with Bluetooth connectivity to smartphones. We have a direct comparison between the two best-selling hardware wallets from Ledger for you here.
Conclusion: Ledger hardware wallets now with Bitcoin gift
The last time Ledger offered such a big indirect discount as currently was for Black Friday in November 2022, so such promotions are rare. If you don't own a hardware wallet yet, the Ledger Nano X or Nano S Plus are a good choice and unrivaled in price with the Bitcoin gift. But even if you're looking for a second hardware wallet or want to give one as a gift, you can grab one now at Ledger – it won't get cheaper than this in the next two weeks for the foreseeable future. How to set up a hardware wallet and why they guarantee you the highest possible security, we have written down for you in a guide article here.
---