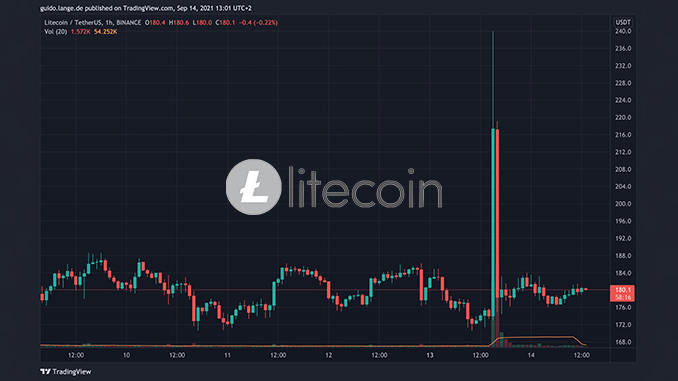 On Monday afternoon, the price of Litecoin (LTC) suddenly jumped by more than 30 percent. But the news of a cooperation with retail giant Walmart was fake.
Too good to be true: Yesterday afternoon, news suddenly made the rounds that Walmart would accept Litecoin (LTC) as a means of payment as part of a partnership. For various crypto platforms, this was "breaking news" and even the Reuters news agency spread the news to its customers. The price of Litecoin shot up from just under 180 US dollars to over 230 US dollars within an hour. Actually clear, because for LTC as an altcoin with a focus on use as a means of payment, a cooperation with Walmart (over 500 billion US dollars in annual sales) would be a big deal. The catch: the media had consistently fallen for a press release that did not come from Walmart or the Litecoin Foundation.
So it took about two hours to recapture the Fake News. Reuters corrected its reporting, Walmart firmly denied and also the Litecoin Foundation published a correction. So the price of LTC fell just as fast as it had risen before, currently Litecoin has settled back at just under $180.
Fake news about Litecoin and Walmart – what happened?
The fake press release was able to spread quickly because it was sent out via GlobalNewswire. This service provider sends press releases from companies and organizations to editorial offices worldwide. As a rule, they rely on GlobalNewswire to know the originator of the press releases. According to previous information, in the case of Walmart and Litecoin, a website with an e-mail address was created anonymously weeks ago, pretending to belong to the Walmart empire. Thus, the PR message was probably blindly waved through at GlobalNewswire. According to the company, it has now filed charges and wants to review its internal processes. The Litecon Foundation, which briefly assumed the positive coup with Walmart itself, also promises improvement.
Conclusion: Litecoin in the spotlight
At least with global news agencies like Reuters, the principle of finding two sources for news as far as possible and putting quality before speed in the event of inconsistencies actually applies ironclad. That's why something went mightily wrong internally at Reuters with the Walmart and Litecoin report. GlobalNewswire didn't cover itself in glory either. Litecoin, Walmart and day traders are probably the victims, they reacted quickly within their means. Whether those behind the Fake News will be found and whether they were able to monetize the price jump through speculative trades is by no means certain. However, the incident certainly makes one thing clear: The crypto scene is hungry for Bitcoin and Co. to be accepted as a means of payment by large companies. Exactly this expectation was fulfilled by the fake press release and put Litecoin on the very big stage for the moment.
---
Best place to buy Bitcoin and Litecoin: