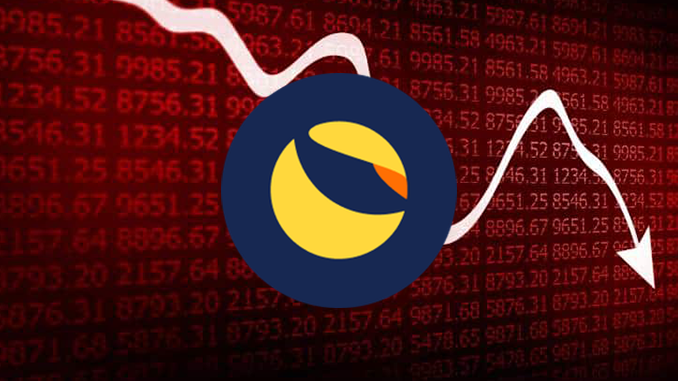 Catastrophic mood on the crypto market: the ecosystem of Terra is collapsing. LUNA has lost its value almost completely, the former stablecoin UST is trapped in the death zone. Here's the overview.
What started insidiously over the weekend and gained rapid momentum from Monday has come true: Terra's ecosystem (LUNA) has collapsed, sending the overall crypto market into a tailspin. Three key metrics:
– LUNA itself, as the linchpin in the ecosystem, is trading at levels below $0.50 as of Thursday morning. As recently as March 2022, LUNA had celebrated all-time highs of over $100. With more than 99 percent loss in value, LUNA has now crashed to the level of a Shitcoin, tens of billions of capital have been wiped out almost overnight and investors have suffered almost a total loss here.
– The stablecoin UST (TerraUSD), which is actually algorithmically secured by LUNA, could not restore the 1:1 link to the US dollar despite rescue attempts. UST still has a theoretical value of around $0.6, but lacks buyers on major crypto exchanges.
– DeFi under LUNA with UST was a growth market until Sunday and had attracted around $30 billion in capital. What's left after the collapse is just over $3 billion, according to DeFiLlama's figures. For dozens of projects, this is likely to mean the end.
Terra founder Do Kwon in the crossfire – past catches up with him
As recently as yesterday, Wednesday, Terra founder Do Kwon had been talking about rescue and rebuilding plans for LUNA and UST. His latest proposal on Twitter was to attract fresh capital to Terra's ecosystem by issuing new special drawing rights. But neither enthusiasm nor chances of success for this model are apparent.
Into the already tragic situation burst news from the US trade magazine CoinDesk. This exclusively revealed that Do Kwon, under a different name, was one of the people responsible for the quickly failing Stablecoin Basis Cash (BAC) in 2020. Also like UST, BAC was supposed to achieve its stability through algorithms rather than cash reserves. Do Kwon has not commented on the news so far and is now suspected of launching bankruptcy projects in series.
In the U.S., experts expect the Securities and Exchange Commission (SEC) and other authorities to take a closer look at the Terra and Do Kwon case. Were investors lured in with false promises? Is there evidence of a Ponzi scheme? Was it possible to save capital with insider trades or even speculate against LUNA and UST? Hardly any accusation seems too far-fetched at the moment.
Black week for Bitcoin and Co. – is a long rainy season beginning now?
In the wake of the panic emanating from LUNA and UST, Bitcoin (BTC) and consistently all major altcoins have lost mighty feathers. Bitcoin has fallen back to around 27,000 U.S. dollars, its lowest level since December 2020, and Ethereum (ETH), the number two cryptocurrency, looks little better: With currently around 1,800 U.S. dollars per ETH, the psychologically important mark of 2,000 U.S. dollars has been undercut, and for Ethereum, almost 40 percent price drop is recorded over the week.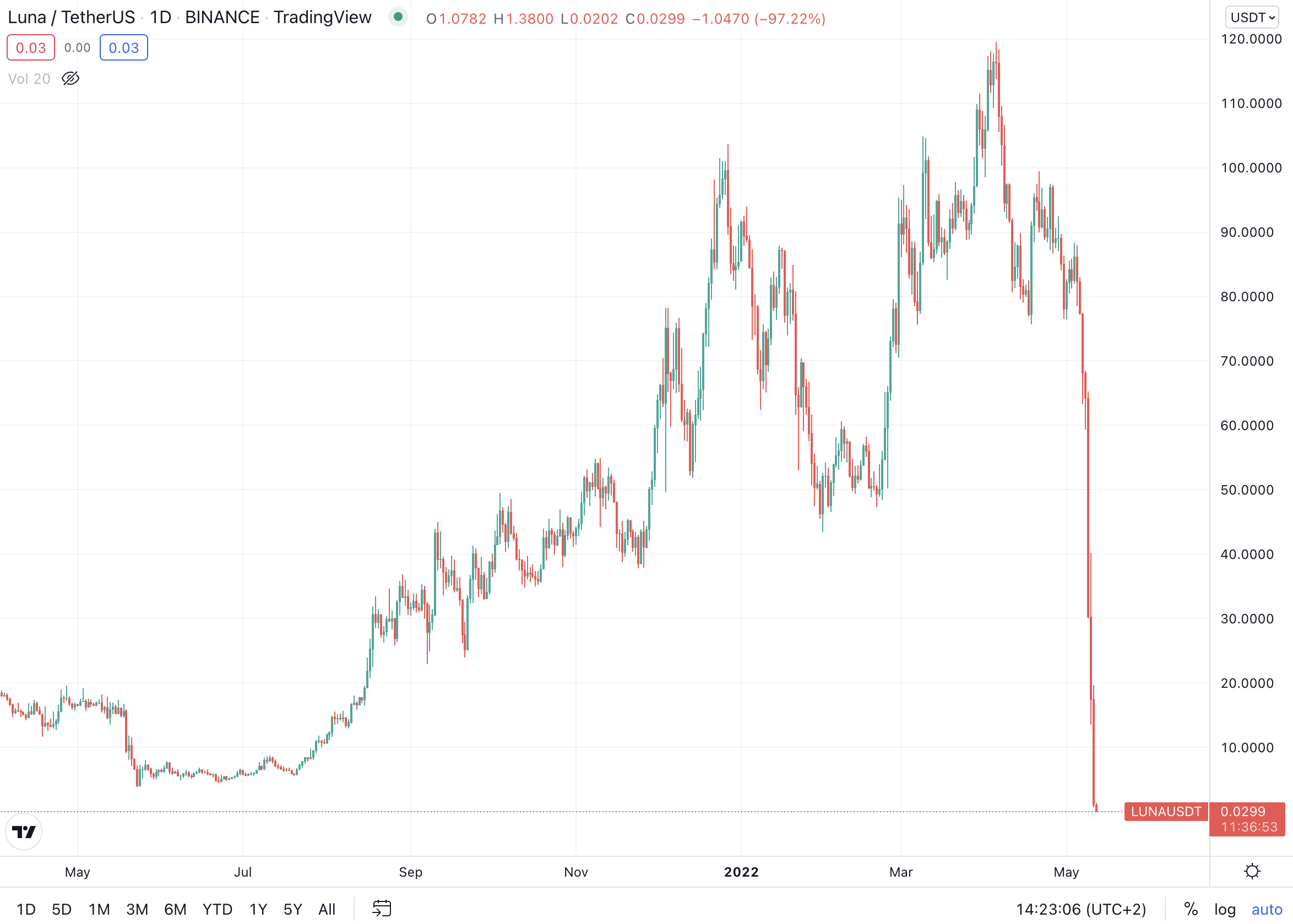 No matter which altcoin you pick today: 30 percent minus over the last few days is almost a positive sign, shooting stars from 2021 like Solana (SOL) and Cardano (ADA) have even slumped by 50 percent. IOTA went down by 54 percent.
A deeper analysis of the shock waves and domino effect is still pending. What should be certain is that the concept of algorithmic stablecoins like UST will not return anytime soon. The entire DeFi division was discredited by the crash of LUNA and UST, where they had advertised around 19 percent annual interest rates for investments in TerraUSD. If and when a distinction will be made again on the overall crypto market between obviously questionable projects and proven cryptocurrencies, the future will have to show.
Conclusion: UST and LUNA are at the end – collateral damage huge
Anyone who still believes in a rescue of LUNA and UST at the moment must probably be mocked as a "naive dreamer". Those who have always said to UST "too good to be true" may feel vindicated. For the crypto industry as a whole, the task now is to put out the conflagration.
---