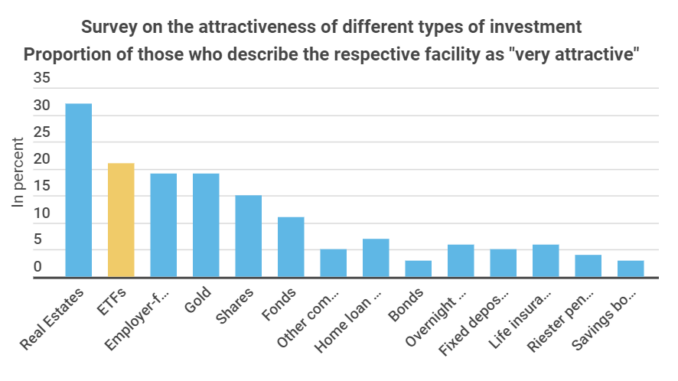 Just 43.9% of German citizens have heard of ETFs, while investors are more than aware of the advantages of this form of investment, as a new infographic by Block-Builders.de shows: ETFs are eclipsing even gold, shares and funds. 
Building society savings plans are the best-known form of investment in Germany, with 88.3% of the population having heard of them. Shares come in second place at 87.6%. A large majority (81.2%) are also familiar with fund products, according to data from a survey conducted by puls Marktforschung GmbH.
However, when it comes to the popularity of these various forms of investment, a different picture emerges. 21% describe ETFs as "very attractive". 19% of respondents rated gold as "very attractive", while 15% said the same of equities and only 11% of funds.
ETF Trend
While the vast majority do not yet seem to have jumped on the ETF bandwagon, global assets under management in ETFs are skyrocketing: in 2020, the worldwide total was $7,737 billion, compared to just $1,313 billion 10 years earlier, an increase of 489%.
In spite of the growth, just 20% of European asset managers who do not offer their own ETF range fear the rapid rise of exchange-traded index funds. It remains to be seen whether their optimism is justified.
As the infographic shows, the Google Trend Score for the search term "ETF" is relatively high in a 5-year review, but remains far below its peak demand. The highest point was in January 2021, at which time the score, an indication of relative search volume, reached its maximum value of one hundred.
Themed ETFs
In addition to broadly diversified ETFs, themed ETFs are also enjoying increasing popularity. Such funds have recently been able to deliver significant returns for investors. For example, the price of the iShares Global Timber & Forestry ETF climbed 66.1% in the 12-month review, while the iShares Global Clean Energy ETF gained 72.1%.