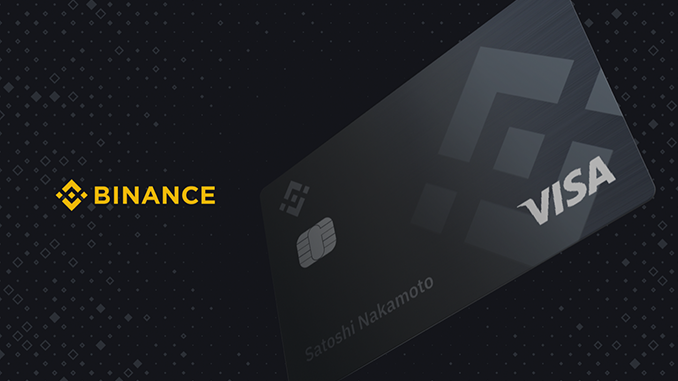 The Binance credit card is about to be launched and at the same time, experts are looking at the product from different perspectives. Some think that Binance misses the target of a real crypto credit card. Others praise the Binance credit card as a consumer-friendly solution.
It's no secret that the classic financial world is unfamiliar with the crypto industry. For example, traditional banks are only slowly daring to make Bitcoin and Co. available to their customers. Credit cards could be an obvious link between the establishment and the young world of the crypto currency. After all, credit cards are accepted worldwide by the market leaders Visa and Mastercard and guarantee their owners creditworthiness in almost all situations in life. Most recently, Binance, the world's largest crypto exchange, has taken up the subject of credit cards aggressively. First, financial service provider Swipe was taken over, which already offers credit cards in combination with crypto. Shortly thereafter, Binance announced a credit card under its own name, which will initially be virtually functional this month and will also be physically delivered in a few weeks.
The Binance credit card is attracting a great deal of attention in the crypto scene and has received advance praise. However, skeptics also note: Binance does not actually fulfill the promise of a crypto credit card. In principle, transactions in Bitcoin (BTC) and other crypto currencies should be processed via the block chain and thus be safe from third-party influence and save on fees. However, the credit cards from Binance and Swipe in cooperation with Visa have several shortcomings: First of all, the three companies mentioned above are involved as intermediaries and naturally want to earn fees. Just as important is that when using these "crypto-credit cards", the final settlement is made in Fiat and the block chain is left out. The providers exchange credit balances in crypto for Fiat during payment transactions, which means that decentralisation and protection against external influences is no longer guaranteed.
The vision of a genuine crypto credit card
In the real world, the number of companies accepting Bitcoin and selected Altcoins as means of payment is steadily increasing. Whether Burger King, hotels and flights through travel portals or, in the future, coffee at Starbucks – it is no longer just small companies in nerdy niches that are showing themselves progressive when it comes to Bitcoin. Actually, one would think, it should be possible to pay for goods and services directly with crypto, at least at such companies. But even Binance does not implement this feature, although the sheer market power would certainly put them in a good negotiating position with Visa and Mastercard.
Meanwhile, Binance's competitor Coinbase has gone its own way and managed to become a principal member of Visa in February 2020. This gives them the right to issue credit cards themselves and in return assume liability risks. But even the Coinbase credit card is ultimately settled in Fiat and direct crypto payments are not included. At least in Germany, only the offer of TenX, where Bitcoin, Litecoin (LTC) and Ethereum (ETH) could be used directly, came close to the idea of a real crypto credit card. But in the wake of the debacle at service provider Wirecard, TenX also had to change its course. Now, the system always converts to Fiat before payments are realized.
Conclusion: Current crypto credit cards are only an interim solution
From the point of view of investors in crypto, the associated credit cards are indeed an elegant way of keeping balances in Bitcoin and other coins as liquidity for Fiat at all times. This is because the conversion process takes place in the background and within seconds. But it also often costs a lot of money – as the Binance credit card's fee comparison shows, this is still an open question. However, there still seems to be a long way to go to the basic goal of being able to pay by credit card without intermediary and directly via the block chain and in Bitcoin, for example. Apparently, even Coinbase and Binance are encountering blockade behaviour from Visa and Mastercard on this issue.
Thus, the offers mentioned crypto credit cards can score points through user-friendliness and are certainly interesting for many. But the breakthrough to what at least parts of the crypto scene really expect has not yet been achieved. A positive side effect of crypto-to-crypto payments in the real world would probably also be that more price stability should be achieved through generated volumes.
---
Open a Binance Account here and save 10% on fees for a lifetime.