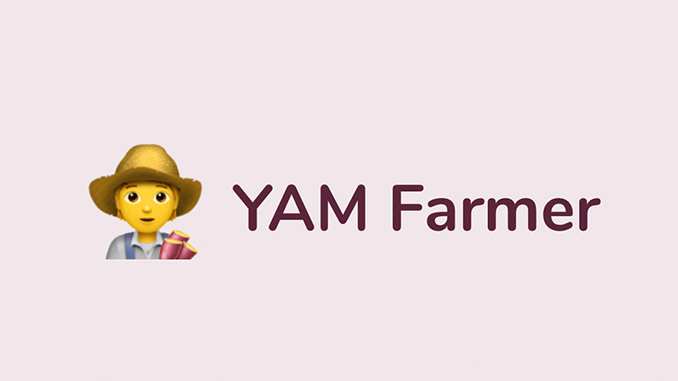 On Tuesday the concept of a DeFi token called YAM was put online and immediately the issue started. Meanwhile, at least the equivalent of 400 million US dollars are already bound in YAM, while the developers have to admit a bug in the code.
With a friendly emoji as a symbol, YAM went online on Tuesday, announced by a blog post. The developers promised an "experiment" in the field of DeFi and a token that would score points through price stability and self-management. Already in the first 24 hours, investors are shifting the equivalent of more than 400 million US dollars towards the YAM and are placing it in smart contracts there. What sounds like an impressive success story, however, is severely disturbed by the YAM team's call on Twitter to save the project. Because a bug has been discovered that needs to be fixed immediately by majority vote.
YAM – what is that actually?
In the crypto industry the DeFi sector is booming and investors are trying to make profits from price differences. If it is now possible to realize price differences for the DeFi tokens plus lending levers on exchange markets, the profits will quickly add up to dizzying millions.
YAM wanted to radically simplify this chain and therefore created its own token with an original value of zero. YAM's value would be created by users transferring their shares in leading DeFi protocols to YAM. At the same time, a built-in stability mechanism at YAM will ensure that YAM remains closely tied 1:1 to USD stablecoins. In theory, YAM will be regularly burned or regenerated for this purpose, and the owners of YAM will be able to make democratic decisions on future issues. In short: YAM combines staking profits and de fi profits with integrated stability control and transparent decision-making processes.
Garnished with a friendly smiling sun as emoji for YAM, investors have tied up the egg-laying wool-milk sow and got involved in the YAM experiment. The fact that YAM is mainly based on tried and tested protocols was discreetly overlooked, but their interaction was not subjected to any real test before the launch. YAM had pointed this out and what is happening there now is described in a call for help from the developers.
A simple bug in the code currently causes more YAM to be generated than there are values. If the barrel overflows, YAM is uncontrollable, because the real YAM no longer have enough tuning power to outvote the entire artificial total. At the time of writing this text it is unclear whether the rescue operation will succeed. At least the DeFi tokens stored at YAM for staking should be safe, they say.
Conclusion: YAM's lightning start threatens abrupt end
What began rapidly at YAM was the jump to the trendy theme of DeFi. Within a very short period of time, YAM actually succeeded in attracting crypto-capital on a large scale. Coinmarketcap sees YAM's market capitalization at just under USD 1.5 billion despite a sharp drop in the share price. Whether YAM will continue to exist at all or whether it will have to give up is an open question. In any case, YAM is a good example of how not to blindly trust every new project that DeFi takes up.
---
Best place to buy Bitcoin: