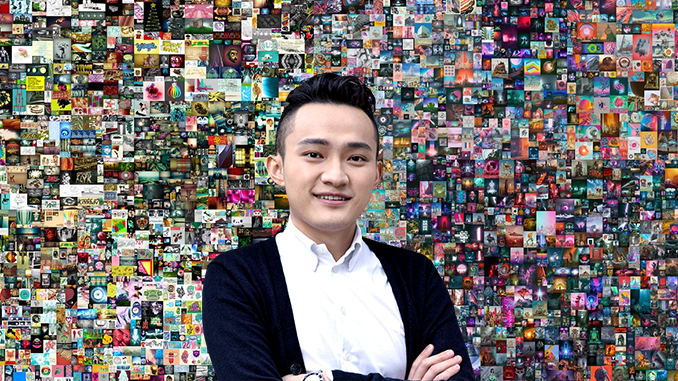 A good 69 million US dollars have been achieved at the auction of an NFT artwork. Initially, it was said that Tron founder Justin Sun had won the auction. But Sun was outbid and is complaining.
On Thursday night, the art world witnessed a now historic auction: "Everydays: the First 5,000 Days" as a digital artwork hit the market as an NFT (Non-Fungible Token), fetching $60.25 million plus just over $9 million in auction fees at Christie's. In the midst of a spectacular bidding battle for artist Beeple's NFT was Justin Sun, founder of TRON (TRX). Sun had already shown a loose relationship with money in 2019 when auctioning off a charity dinner with investing legend Warren Buffet, and most recently in auctions of historic Twitter post as NFTs. After the final hammer fell on Beeples NFT, it was initially said that Justin Sun had won the bid.
Only after long hours Sun then spoke via Twitter on Friday morning and clarified: He had indeed participated in the auction and also submitted a bid of 60 million US dollars plus fees. This bid was then outbid by 250,000 US dollars at the last second. Sun assumed that this would give him another 90 seconds to make another bid. He wanted to raise his bid to 70 million US dollars, but for reasons that have not yet been finally clarified, this bid was not accepted by Christie's computer system. Sun is calling for such auctions to be organized transparently on a blockchain basis in the future. Who the digital artwork now belongs to remains unknown for now; Christie's speaks of a bidder who wishes to remain anonymous.
How NFTs (can) revolutionize the art world
The 60 million U.S. dollars will now go directly to Beeple, whose real name is Mike Winkelmann, and who submitted his artwork, which he had been collaging since 2013, to Christie's himself. "Everydays: the First 5,000 Days" is now the third most expensive work by a living artist in art history, topped only by widely known stars Jeff Koons and David Hockney . But their pieces had been resold; they did not rake in the record sums themselves. Beeple commented on the sensation via Twitter with "Holy shit".
Spokespeople for Christie's reported that many previously unknown participants had signed up and participated in the auction. With this NFT, Christie's has thus attracted a new, rich group of bidders who find the principle of NFT fascinating. In fact, one may ask whether classical auction houses are still needed for NFTs at all or whether they can take place digitally and independently. After all, the fees of a good 9 million U.S. dollars and thus around 15 percent of the total price are a government sum that could largely be saved. It is also not known whether Beeple has programmed a clause into its NFT that would automatically give it a percentage share in any resales. In other words, as NFTs move into the art market, options for new business models emerge and further innovation can be expected.
Conclusion: "Art collector" Justin Sun must be patient
Beeple's art, including parts of "Everydays," can be admired on his website. It took him a good 5,000 days to create the huge collage. So if Justin Sun now hopes to be able to bid for an NFT from Beeple again soon, he may have to plan for longer waiting times. But you never know with Sun: Was this a PR campaign for Tron or does the 30-year-old really want to build up a digital art collection? In any case, the trendy topic of NFT made history on March 11, 2021.
---
Best place to buy Bitcoin: