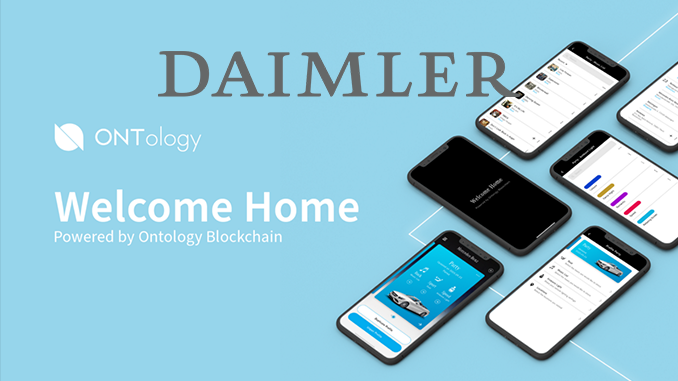 Mercedes-Benz Daimler has unveiled a platform based on block-chain technology that is designed to make everyday life easier for drivers. For example, individual settings such as seat position and favorite radio stations can be automatically transferred from one car to the next.
Daimer calls its new approach "Welcome Home" to try out a block chain in the overall theme of mobility. The company has joined forces with Ontology (ONT), as can be seen from a press release. The first use case of "Welcome Home" is the creation of an individual user account. This then allows preferences such as seat position, radio station or interior lighting to be saved and automatically adopted when changing vehicles. The project, which should be ready for use as early as October, was presented at the Startup Autobahn conference sponsored by Daimler.
Daimler is committed to Ontology
Daimler bundles future solutions through its Blockchain Factory, which is part of the mobility division. As far as is known, the cooperation with Ontology is a premiere there and is likely to make competitors from the crypto industry such as IOTA envious. After all, "Welcome Home" is openly designed and is intended to encourage car rental companies to participate. The idea is that one user account is enough to rent cars from different providers without having to fill out cumbersome new forms each time. Paying parking tickets, parking fees or customizing navigation systems – Welcome Home is basically open for services of all kinds. Ontology, with its own block chain, takes care of manipulation-proof data transfer and documentation, and there has hardly been any mention of payment functions with ONT. But "Welcome Home" from Daimler is designed as the first module of a larger MoveX platform. With the core idea of a unique ID, which stores and automatically applies preferences, it is certainly possible to extend the topic of individual mobility further, for example in the direction of air travel or hotel bookings.
Automobile manufacturers from BMW to Tesla see block chain technology as a mass application. To name just two examples: Self-propelled cars should exchange traffic information via block chain, trucks should be prepared for data transfer for supply chains. However, it remains questionable whether cross-manufacturer solutions will prevail or whether everyone will favor their own project. Daimler is not a member of the industry association MOBI, which brings together manufacturers, suppliers, and service providers from all continents for block chain solutions.
Conclusion: Daimler and Ontology rethink mobility
"Welcome Home" is expressly not classified as a test, but is now intended to find participants from the business world and private users. Only then did it become apparent whether a theoretically fascinating concept would be successful in practice. For Ontology, the partnership with Daimler is certainly a good advertising tool. And Daimler is demonstrating that it can bring innovative power to series production. The crypto industry as a whole will take a lot of momentum from the mobility sector in the coming years – this prognosis is quite simple given the large number of known projects.
---
Ontology is traded at Binance. Open a Binance Account here and save 10% on fees for a lifetime.