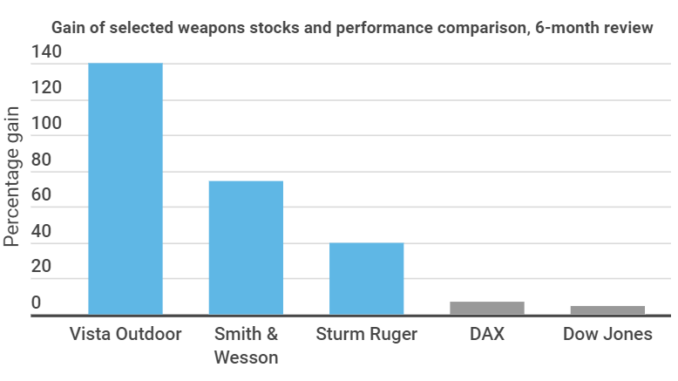 Note: Many investors refuse to invest in arms and defence companies on ethical and moral grounds. In this article we only report – as always – objectively and impartially on current developments.
In 2020, the year of crisis, more people around the world searched for "Buy Gun" on Google than ever before. A new infographic by Block-Builders.de shows that citizens are not stopping at information gathering: sales figures are also reaching new heights. The corresponding listed companies have been among the biggest beneficiaries of the crisis.
The Google trend score for the search term pair "Buy Gun" reached a maximum value of one hundred several times this year, representing the highest possible relative search volume. The survey took into account all data provided by the search engine operator since 2004. Searches are overwhelmingly originating from the United States of America where, as the infographic shows, the explosive mixture of issues is driving sales upwards: escalating racism debates and scenes of violence in the wake of them, the fear of a deepening corona crisis and many citizens' concern about more restrictive gun laws.
Weapons Stocks on the Rise
In July the FBI reported a sharp increase in background checks, a prerequisite to purchasing a weapon. Compared to the same month last year, the number of background checks conducted has risen by 80%.
A glance at weapons manufacturer Sturm Ruger's accounts underscores this development. The company achieved a turnover of $130.3 million US in the second quarter this year, compared to $96.3 million US between April and June 2019. The increase in pre-tax earnings was even stronger, rising by 194% to $24.7 million US.
Meanwhile, listed arms manufacturers are experiencing disproportionate share price gains in the stock market. The price of shares in Vista Outdoor increased by a massive 140% in the last six months. Smith & Wesson and Sturm Ruger also posted substantial gains of 74.4% and 39.9% respectively. As a comparison, the Dow Jones rose by just 4.79% over the same period.