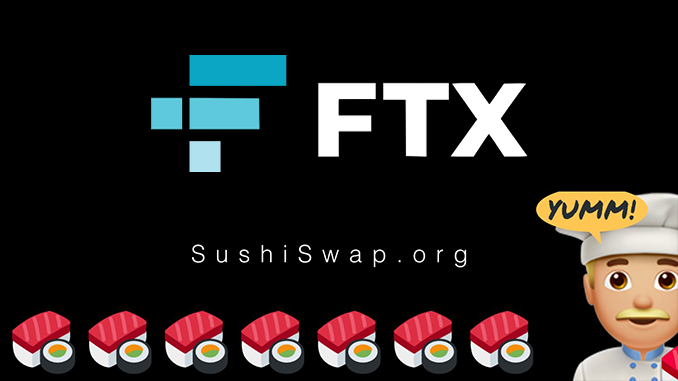 SushiSwap and SUSHI as innovative DeFi solution have recently determined the discussion in the crypto scene. Now the anonymous inventor of SUSHI withdraws and has transferred the responsibility to Sam Bankman-Fried, CEO of the crypto exchange FTX.
SUSHI and SushiSwap electrified the crypto scene last week, within a few days investors shifted hundreds of millions of US dollars towards SushiSwap. On the weekend the project produced further headlines: First it became known that "Chef Nomi" as the anonymous head behind SUSHI had withdrawn his shares and exchanged them for Ethereum (ETH). He should be able to book about 13 million US dollars as profit and "Chef Nomi" was initially busy on Twitter to counter scam accusations. At the same time he had a vote on who should continue SushiSwap. The choice fell on Sam Bankman-Fried, who is known as CEO of the crypto exchange FTX.
Meanwhile "Chef Nomi" has handed over the administrative control of SushiSwap to Bankman-Fried and documented this on Twitter as well. Bankman-Fried was initially somewhat surprised about the development, but then agreed to take over the responsibility. The market seems to welcome the move, as SUSHI's share price rose by around 100 percent overnight after having slumped previously.
What is the future of SushiSwap?
In an interview with the business paper Forbes, Bankman-Fried outlined as a first task to ensure the upcoming transfer of liquidity pools to SushiSwap. These come mainly from UniSwap, where investors are rewarded by distribution of SUSHI when switching. Bankman-Fried can imagine to extend the concept of SushiSwap as a decentralized DeFi exchange with functions like margin trading. He only wants to implement such ideas if the investors in SushiSwap agree to such proposals.
For investors who are involved in SUSHI and SushiSwap, the Twitter account of Bankman-Fried is currently the first point of contact for information on progress. Whether "Chef Nomi" will continue to get involved in the discussion via Twitter remains unclear. And even if some people regret the surprising withdrawal of "Chef Nomi" or consider it suspicious – SushiSwap is probably better off with Bankman-Fried as an established crypto expert than with an anonymous expert. Meanwhile Forbes talks about the "SUSHI Sage" and hits the core of this DeFi-Stoy pretty good.
---
You can buy Sushi on Binance or FTX. Open a Binance Account here and save 10% on fees for a lifetime.