Polkadot (DOT) has exceeded the price mark of 31 US dollars for the first time in its history. The reason for the run is news from the development team explaining a future use for DOT.
Polkadot (DOT) and Cardano (ADA) are currently engaged in an exciting duel for the fourth place of the most capitalized cryptocurrencies. The reason for the extremely positive price developments for both are technological advances. In the case of Cardano, it was the announcement of an important update for February that boosted ADA this week. And at Polkadot, there was also an announcement from the engine room, which promptly lifted DOT to a new all-time high.
Parachains at Polkadot open up opportunities for DOT
The grand plan at Polkadot was and is to use so-called parachains to link technically incompatible, foreign blockchains with each other. This should allow information, data and digital money to move back and forth between different projects in a decentralized and tamper-proof manner.
These parachains are already being tried out by Polkadot in a testnet called Rocco. Not everything is running smoothly at Rocco yet, as restarts show. But Polkadot believes it is on the right track and explains how the parachains are becoming interesting for DOT use. Because in order to rent capacities of the Parachains, there will be regular auctions in the future, where DOT are the currency. This shows a real purpose of DOT, which was otherwise not really recognizable at Polkadot.
So far, a date in Q1 2021 was targeted for the activation of parachains in combination with Polkadot's mainnet. This is unlikely to be met, as Rocco is to be followed by a test run called Kusama. Polkadot has not yet published an update on concrete schedules.
But the markets and developers continue to accompany Polkadot with a lot of optimism. An often underestimated factor here is the support from China, which Polkadot actively promotes. Considering that DOT has only been freely tradable for half a year, its push into the top tier of major cryptocurrencies in general already shows quite a success story.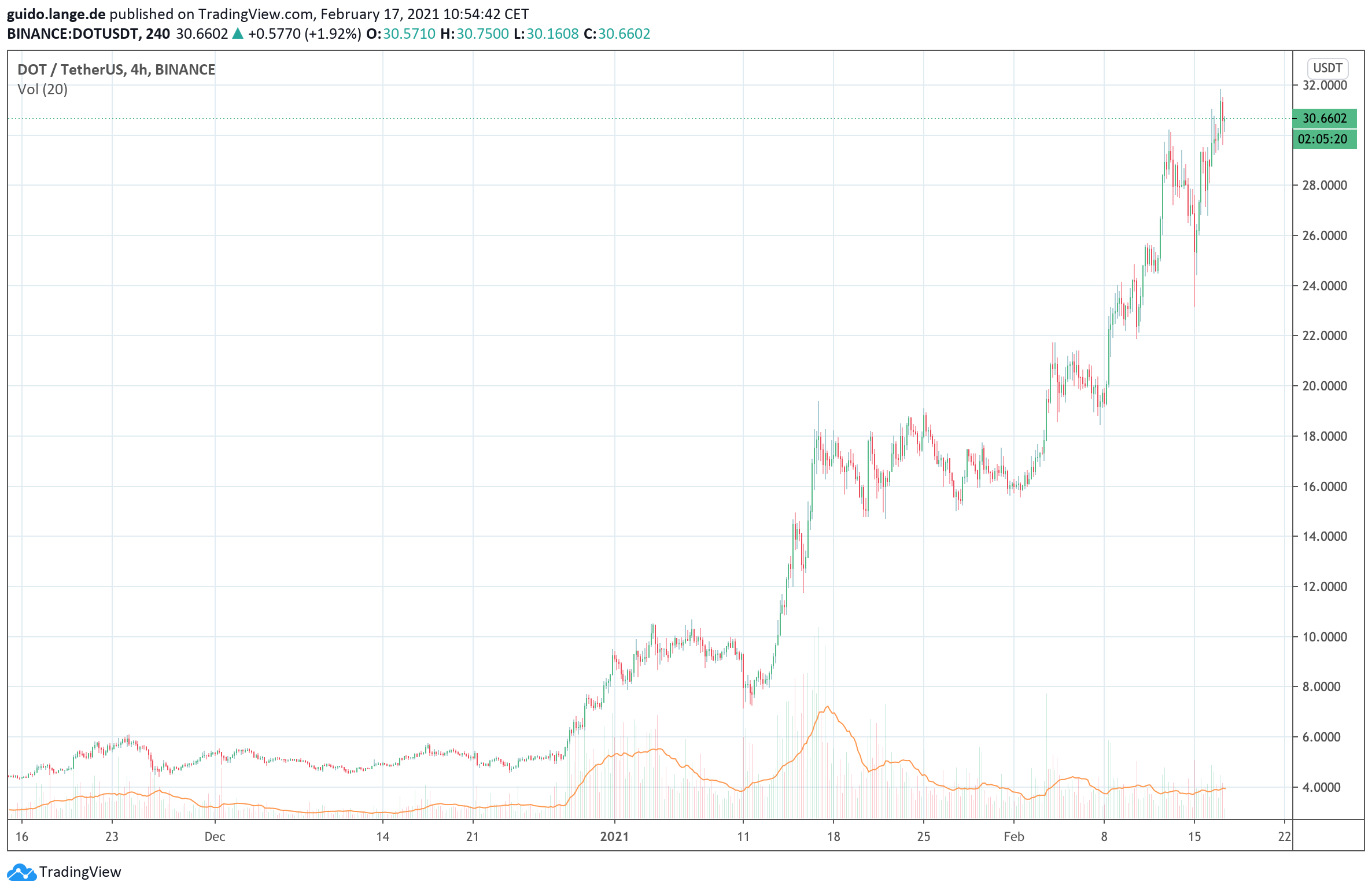 Conclusion: polkadot facing new peaks?
Polkadot believes that with the technical realization of Parachains in commercial use, the originally intended internal development work will be completed for the time being. Further steps will then be decided by the community. The recent price developments of DOT as well as ADA demonstrate that you as an investor should also keep an eye on the sometimes brittle-looking technological news about major cryptocurrencies.
---
You can buy Polkadot on Binance. Open a Binance Account here and save 10% on fees for a lifetime.