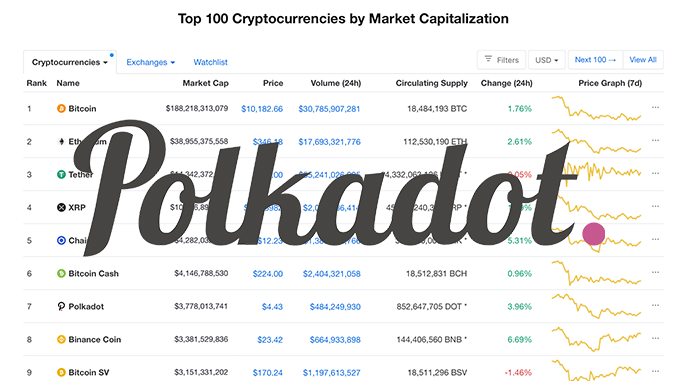 Polkadot (DOT) proves that there are also rather conservative old coins that stand out due to their price curve. DOTs have only been freely tradable for three weeks – but during this time the price has risen sharply and Polkadot has secured a place in the top ten by market capitalization.
Polkadot (DOT) is the oldcoin of the hour when looking at the crypto market from the perspective of market capitalization. Only three weeks ago DOT became transferable and thus freely tradable. Thus Polkadot put the starting point for its quotation at the large crypto stock exchanges. A first conclusion: with a market capitalization of around 3.7 billion US dollars, Polkadot has currently secured seventh place among the largest crypto currencies. The price of DOT shot up after the initial quotation of just under 3 US dollars to 6.80 US dollars at times and is currently around 4.26 US dollars. So what is behind the dream start of Polkadot?
Redomination at DOT as price driver
The market launch of Polkadot was accompanied by the news that only three days later (on August 21) the DOT would be redominated. This was preceded by a vote among early investors. They decided to turn one DOT into one hundred. This step was intended to make DOT more attractive for investors and users through smaller units, but at the same time it should not affect the value of DOTs previously allocated. Polkadot nevertheless warned that for a short time "old" and "new" DOTs would be quoted next to each other and could cause confusion.
In practice, the redomination of DOTs created an effect known from classic stock markets as a stock split. TESLA, for example, recently split its shares in a ratio of 1:5 and was able to post a 12 percent increase in its share price. Apple's price curve also benefited from a stock split in these days. Polkadot has taken advantage of this momentum in the world of crypto currencies and is now considered a pioneer.
Conclusion: Polkadot on the road to success
In the meantime, the excitement about the redomination of DOT has subsided and the polkadot can be viewed soberly again. Analysts point out the solid financial resources of Polkadot and the growing number of external projects using the Polkadot block chain. This makes it possible to make external block chains compatible with each other. This enables Ethereum's Smart Contracts, for example, to use competing crypto-currencies as means of payment. Polkadot has thus solved a problem of the crypto world and taken over a leading role in technology. Seen in this way, DOT is an interesting option for medium and long-term thinking investors, because this new old coin was accepted by the market and crypto industry and thus allows to foresee further chances of profit.
---
Best place to buy Polkadot (DOT) is on Binance. Open a Binance Account here and save 10% on fees for a lifetime.