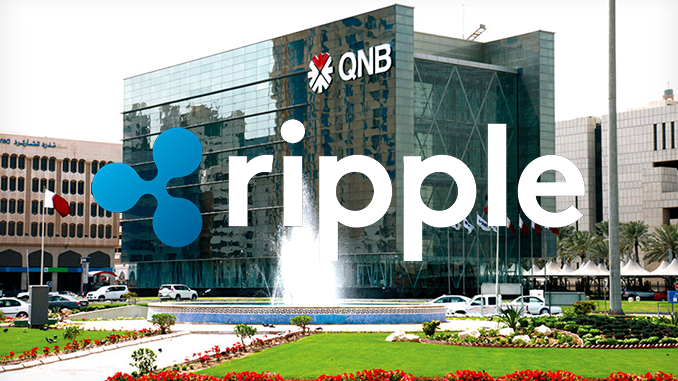 Ripple and Qatar National Bank (QNB) have agreed on a partnership to simplify international transfers. However, the use of XRP is not planned.
Whenever Ripple announces a new cooperation or new project, analysts automatically ask the question: how does this affect XRP, Ripple's cryptocurrency? Such is the case with the latest one, the merging of Ripple with Qatar National Bank (QNB). Local media in Qatar are reporting on QNB's partnership with Ripple. But crucial details are hidden between the lines.
Because XRP is not mentioned with a word in the reports. Instead, there is talk of RippleNet, which will initially be rolled out at QNB's representative office in Turkey. Turkey, however, has largely banned cryptocurrencies. This makes it clear that QNB is interested in RippleNet without XRP. RippleNet is the network that Ripple has just optimized in terms of international transactions. But XRP is only an option for RippleNet as a bridge currency and not a must. Most banks cooperating with Ripple rely on classic fiat currencies for RippleNet. So now also QNB.
Background on QNB and Ripple
Headquartered in Doha, QNB is the largest universal bank in its home country and one of the leading financial institutions in the Middle East. QNB is appearing as one of the main sponsors at the 2022 World Cup in Qatar. Ripple, on the other hand, is represented in the region by an office in Dubai, but mainly serves customers in Asia from there. In this respect, the QNB could become a door opener for new markets. Spokespersons from both sides praised the cooperation in advance and emphasized the goal of improving cross-border transactions. RippleNet scores in this field with high speed and low fees, because transfers are processed automatically in the network and do not have to be booked manually.
Conclusion: XRP remains trapped in danger zone
Investors look at XRP first and foremost to the court case of the U.S. Securities and Exchange Commission (SEC) against Ripple, which is being heard in New York. This is because the SEC's robust action against Ripple over XRP also includes significant claims for damages and has de facto banned XRP from the US market for the time being. While Ripple is undertaking offensives to find new uses for XRP, it has had little success with them so far. Thus, the partnership with QNB is an encouraging sign for Ripple, but it cannot noticeably influence the price curve of XRP.
---
Best place to buy Bitcoin and XRP: