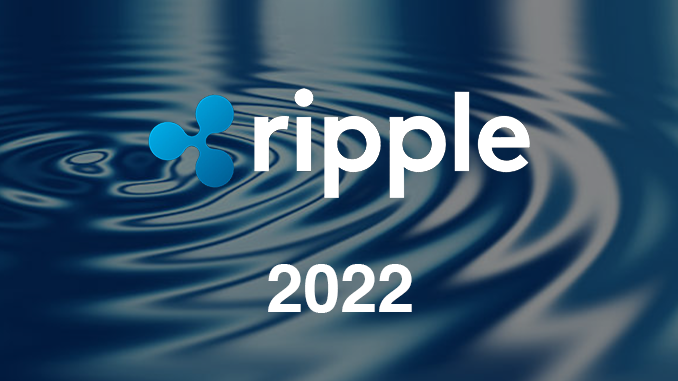 Ripple (XRP) has fared better through crypto year 2022 than Bitcoin and many altcoins, price-wise. But an end to the lawsuit against the U.S. Securities and Exchange Commission (SEC) is yet to come. We look back and toward 2023.
In crypto year 2022, Ripple (XRP) has achieved a feat: Although the U.S. Securities and Exchange Commission's (SEC) ongoing court case against Ripple has effectively shut down North American business and XRP remains delisted from crypto exchanges in the U.S. and Canada, the price curve has shown comparative resilience. As of Jan. 1, 2022, XRP was trading at around $0.83, currently around $0.35. With almost 60 percent minus, XRP thus performed better over the past twelve months than the cryptocurrency Bitcoin (BTC) (minus 66 percent) and the bulk of the major altcoins such as Ethereum (ETH) (minus 70 percent).
U.S. Securities and Exchange Commission SEC vs. Ripple and XRP: ruling draws closer
The fact that the markets remain in wait-and-see mode with regard to XRP is closely related to the seemingly endless proceedings of the SEC against Ripple. In our annual review 2021, we predicted in line with experts that the mammoth process would be completed in 2022. But the SEC shifted to playing for time and Ripple opened up new strands of defense tactics for XRP.
Without going into details here, which you can find in our ongoing coverage: In early December, the court in New York and the litigants completed the evidentiary hearings, the pleadings have been delivered, and in normal circumstances, this means a verdict is expected in Q2 2023. Observers have registered various point victories for Ripple and XRP, but for the SEC, the billion-dollar fine it is seeking remains a prestige project that could have a perspective impact on the entire crypto industry. Voices that continue to hope for an out-of-court settlement to avoid a showdown between the SEC and XRP are becoming rarer in light of the hardened positions.
Ripple sees XRP gaining ground outside of North America.
Amid the tangled situation, Ripple 2022 has shifted its focus to international business excluding North America, making strides in lines of business new to XRP. Two application areas stand out here: Ripple is approaching the big-ticket NFTs differently than its competitors, focusing on areas where digital art doesn't play first fiddle but tangible uses for NFTs such as tamper-proof certificates or tickets. In November, Ripple made its own NFT standard live, setting a course.
The second promising spar for XRP technology from Ripple's perspective is government-organized digital currencies (CBDCs). With pilot projects in Palau and Bhutan, Ripple believes it is well equipped to see its concepts on CBDCs in practice.
In Ripple's actual core business of establishing XRP as a bridge currency for international financial transfers, "milestones" have been reached, according to CEO Brad Garlinghouse. Quarterly reports showed XRP is increasingly in demand by cooperating partners in the ODL (On-Demand Liquidity) program in volume and number of individual cases, opening new payment corridors in Africa and Europe is paying off.
Chapter XRP sales by Ripple co-founder McCaleb is ticked off
Another development was important for XRP investors: for more than five years, Ripple's cryptocurrency was accompanied by suspicions that co-founder Jed McCaleb could be influencing XRP's price curve through the severance package he agreed to when he left in 2016. A good 12 percent of all XRP was due to McCaleb and he sold these in tranches. In mid-July 2022, the spook was over, McCaleb's "Taco" wallet, which had become notorious, was emptied and Ripple could finally tick off the controversial chapter.
DeFi ambitions for XRP remain bloodless
Elsewhere, Ripple is treading water: since 2020, Project Flare (formerly Spark) has been beating the advertising drum, aiming to build an elegant bridge to Decentralized Finance (DeFi) for the massive market capitalization of XRP ($17.5 billion in December 2022). But launch dates for Flare shattered again and again, even last mentioned dates for late fall 2022 was not met. This is where the SEC's case against XRP is likely to have an impact. A bridge for XRP to the Ethereum ecosystem presented by Ripple itself is so far only a feasibility study and has no monetary effects.
Conclusion: 2023 will be a fateful year for Ripple and XRP
Ripple celebrated its tenth anniversary in 2022, and the darn eleventh year of 2023 will predictably be the signpost. If XRP is cleared of SEC oversight, a spectacular comeback is also within the realm of possibility price-wise. XRP's previous all-time high of $3.40 from January 2018 is a guide in this case. If Ripple draws the short straw in court, XRP is threatened with a crash. However, investors should also take into account the option of an appeal, whether filed by Ripple or the SEC.