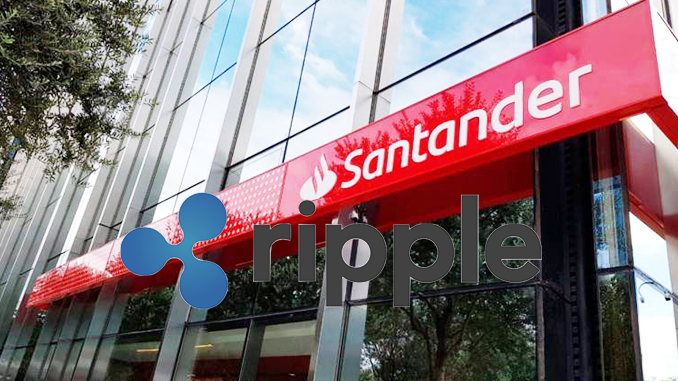 The major Spanish bank Santander intends to use Ripples' One Pay FX transfer solution in the future to serve customers in Mexico. Ripple One Pay FX is already being used in six other markets. However, the solution formerly known as RippleNet does not use XRP.
Ripple (XRP) has yet another prominent example of how its block-chain-like technology for cross-border transfers works in practice. The universal bank Santander, headquartered in Spain, plans to integrate Ripple One Pay FX (formerly RippleNet) into its Mexican operations this year to process international transactions there faster and cheaper than before. This is the result of a mandatory announcement by Santander to the US authorities. Santander has been cooperating with Ripple for years and, through its subsidiary InnoVentures, has invested USD 4 million in Ripple in 2015 in a financing round. Painful for investors: Santander is using Ripple technology as in the past, but is refraining from using XRP as a bridge currency.
Background on Ripple One Pay FX and Santander
The original claim of Ripple with its own crypto currency XRP was to revolutionize international payment transactions. This is still largely checked and documented by hand, which costs time and money. Ripple's network, on the other hand, relies on Distributed Ledger, which enables automated international transfers in real time and records them in a manipulation-proof and transparent manner. However, Ripple's assumption that bank customers, for example, use XRP as a bridge currency for transfers has not been proven correct. They still prefer to settle their accounts directly in Fiat.
Santander is one of the largest banks in the world and has subsidiaries throughout North and South America. Mexico is known for billions of dollars in cash flows that go from Mexicans living abroad to family and friends back home. Santander is likely to concentrate on this business in the Ripple application for Mexico. Santander already uses Ripple One Pay FX in Spain, the UK, Brazil, Poland, Portugal and Chile. In the medium term, Santander plans to roll out Ripple technology worldwide for its branches. In Mexico, the financial services provider Money Express recently announced that it will use Ripple – in this case together with XRP – for Mexico.
XRP and Ripple at a crossroads?
Ripple and XRP continue to send out very different signals: On the one hand, Ripple is thinking loudly about going public. On the other hand, Ripple has run into legal problems in the USA with the issue of XRP and is facing class actions by disappointed investors. Meanwhile, it is becoming increasingly clear that Ripple can only establish XRP in the classic financial markets through subsidies worth millions, the last example being South Korea. XRP's share price has almost halved year-on-year, and the brief interim high after joining MoneyGram is long gone. So XRP is threatening to become more and more a speculative old coin, whose original use comes into play far too seldom.
---