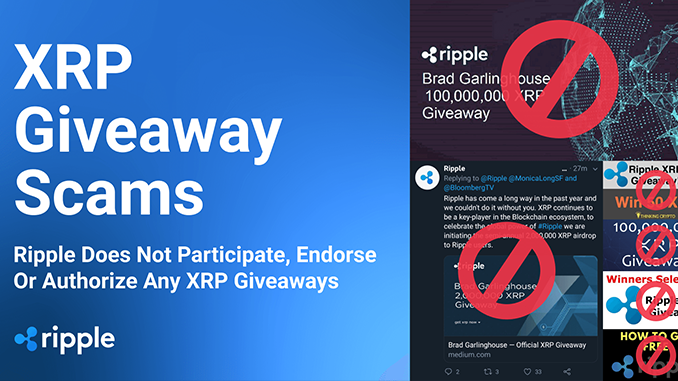 Ripple is taking YouTube to court. The video platform is accused of not taking decisive action against content that promises XRP but in fact aims to take XRP illegally (giveaway scams).
Ripple (XRP) sees its reputation damaged, as content is repeatedly played on YouTube that aims to cheat investors. In a complaint filed in Northern California by Ripple, the typical actions of online criminals are described as "giveaway scams". This scam involves the prospect of free XRP payouts. Celebrities such as Ripple CEO Brad Garlinghouse, Tesla boss Elon Musk or US President Donald Trump are used as advertising figures. So that one can come to the free XRP, however, personal data and also payments are to be made first. With it the cheats pull then from then. Ripple argues now that YouTube does not delete such contents fast enough and even makes money from them through advertisements. There was no reaction from YouTube at first. The US Consumer Protection Agency estimates that Internet fraud is increasing rapidly in the wake of the Corona crisis and has already caused at least 13 million US dollars in damage in the USA this year.
What you can do against crypto scams
Common sense teaches us that free promises usually have a catch. With such practices like XRP's giveaway scams, the inner alarm siren should automatically go off, especially when the dubious offers are accompanied by celebrities who have no known affection for Ripple. Ripple himself has summarized in a blog post what has been found out about the scams and asks the community to report suspicious clips and other content on this website.
In Germany, it has recently repeatedly met TV presenter Günter Jauch, in whose name advertising for dubious Bitcoin platforms is carried out. Jauch has also announced legal action. At this point we would like to warn you once again against so-called Bitcoin Trading Bots, which promise four-digit profits per day, but only aim to take money out of your pocket.
Conclusion: There is a crisis between YouTube and the crypto industry
Only a few days ago, YouTube came under criticism because serious information about Bitcoin and Co. was deleted there. Now Ripple shows what's wrong on the other side of YouTube in terms of crypto-currencies. It's time that YouTube imposed transparent rules on itself for dealing with content from the crypto industry and sorted out black sheep. By the way, this does not only apply to YouTube. Other platforms are also struggling with advertising and publications on cryptographic topics, where good faith is to be exploited with criminal energy.
---
Best place to buy XRP: