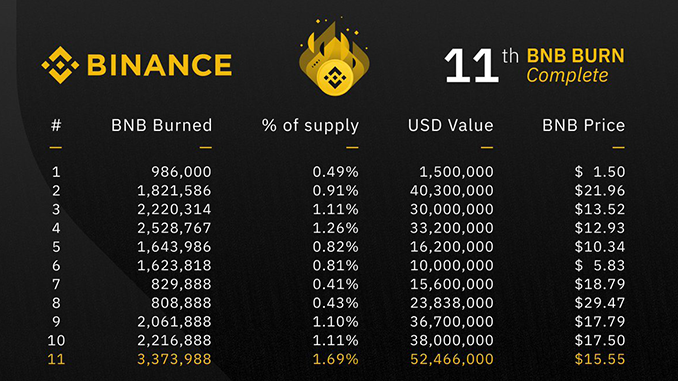 The Corona crisis is driving the business of the world's leading crypto exchange Binance: The company announced that it is seeing a sharp rise in turnover. The trend is also expressed in the Burn program for Binance Coin (BNB).
The crypto exchange Binance sees itself as one of the economic winners in the current uncertain times, which are characterized by global effects of the corona virus. In its most recent quarterly report for January to March 2020, Binance states that it has burned 3,373,988 Binance Coin (BNB), whose value is equivalent to approximately USD 52.5 million. This is said to be a new record for Binance. As Binance has committed itself to withdraw BNB from the market in line with business development, the quarterly burn program is a key indicator of Binance's profitability. In the meantime, a good 10 percent of the original 200 million NBBs have been eliminated, which also serves to combat inflation for the sake of investors.
What Binance has learned since the beginning of the year and what it plans to do in the future
At Binance, CEO Changpeng Zhao himself usually reports to customers and investors every quarter, and this time he has done so as well. CZ is adopting a level-headed tone in view of the global crisis situation, which is at the same time characterised by great optimism for the crypto industry and Binance. About his own portfolio, CZ writes that he is going long for Bitcoin (BTC) and BNB, so he expects significant price gains.
For BNB, this strategy can be underpinned by the business figures of Binance: The turnover on Binance's spot market has grown by 91 percent compared to the 4th quarter of 2019 and now amounts to more than 150 billion US dollars, driven by trading in Bitcoin futures. Daily visits to Binance's online presences are more than five times higher than pre-Corona levels, outpacing the growth of competitors. This is a clear contrast to the crypto winter of 2018/19, for example, when price drops were also reflected in lower turnover, web traffic and active traders, according to CZ.
As Binance no longer focuses its burn program for BNB on actual profit, but on sales, comparisons of the business figures from independent sources are difficult. But CZ gives an indication: they want to use around 25 percent of annual profits for acquisitions. Binance recently took over the data platform CoinMarketCap, for which it is said that 400 million US dollars have been invested. By way of comparison, in the 2018 financial year Binance made a profit of around 446 million US dollars.
Looking to the future, Changpeng Zhao refers to strategic projects in China, where blockchain solutions are supported by politicians with all their might. At the same time, Binance has also launched a coronavirus aid programme, supporting China with tens of thousands of items of equipment.
CZ sees the further development of the Binance Chain as further proof of the success of the solutions offered. It is also working intensively on guaranteeing institutional customers full service in the crypto area. India in particular, along with China, plays an important role in these considerations.
Conclusion: Binance defies the crisis
As a private company, Binance is not directly subject to any obligation to publish its business results. However, in the past, analysts have been able to track the quarterly voluntary disclosures on the basis of their own investigations. There is therefore no real reason to doubt the success of CZ and Binance. For you as an investor, this gives rise to two considerations:
To participate in the success of Binance, BNB remains the appropriate instrument. The consistently pursued strategy of reducing the number of BNBs should also be reflected in the share price performance in the medium term.
Market leadership and cash reserves will enable Binance to enter into a direct clinch with the competition in case of doubt. In plain language: Binance continues to score points for its customers with high liquidity, which ensures transparent pricing, and can convince with a fair fee policy.
Anyone looking at the industry as a whole must nevertheless hope that Binance does not become a monopolist.
---