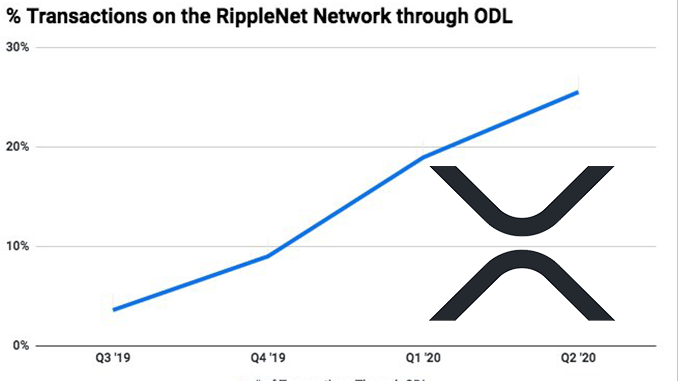 Ripple believes that XRP is increasingly succeeding in being used as a bridge currency in the original sense. Transactions with this purpose would now account for almost 20 percent of all actions in the Ripple network, says a member of the board. Absolute figures, however, remain classified.
A discussion has been accompanying Ripple (XRP) for years now: Is it really possible to establish XRP as a bridge currency for cross-border money transfers? Asheesh Birla, responsible for business customers at Ripple, now paints a positive picture on this question. On Twitter Birla published a diagram that is supposed to prove the growing acceptance of XRP. According to the chart, the share of transactions with XRP in its function as a liquid bridge currency in Ripple's network has risen to about 20 percent and is showing a strongly growing trend. However, critics note again that Ripple still does not provide any information on what the information means in absolute terms – a crucial detail for the future of XRP.
Secrecy at Ripple about XRP?
Those who take a closer look at Ripple and XRP know: Originally, the project started with the concept of providing liquidity in the form of XRP to banks and related financial service providers worldwide. This is intended to significantly accelerate and simplify international money transfers. The intention was to replace SWIFT as the classic system for such cross-border money flows, which costs users time and processing fees due to manual processing. And Ripple has actually succeeded in convincing customers from the traditional financial world. In practice, however, they usually only use Ripple's block-chain-like network (RippleNet), but do not switch from Fiat to XRP. In this respect, the trend pointed out by Birla is a positive sign for XRP.
On the other hand, Ripple is ironically silent about how many millions or billions the volume really means, converted into US dollars. Also with the recent tweet of Birla many people ask this question and the board member of Ripple does not answer. It is known that Ripple is financially involved on a large scale with MoneyGram, for example, so that this service provider is committed to XRP in practice. In November 2019, Ripple reported that a good two dozen business customers are using XRP – again without details on volume.
The impression that Ripple is experiencing less success with XRP than hoped for was recently reinforced by an interview with CEO Brad Garlinghouse. Garlinghouse says that XRP is to be reoriented. Away from the focus on bridge currency and customers from the banking world, towards payment methods in the online world, XRP should develop according to Garlinghouse. During the conversation, the CEO also avoided questions that related to volumes with XRP in the original concept. The background for the conspicuous secrecy is probably worries about the price development of XRP. In terms of price, XRP is treading water and is quoted at around USD 0.30. At the same time, however, Ripple founders and the company itself hold huge reserves in XRP and would like to see positive price effects.
Conclusion: Ripple's half cooked information about XRP is no coincidence
Birla is also trying on Twitter to bring XRP closer to the rapidly growing de fi sector. There, more and more capital is being used in decentralised lending transactions and XRP, in its original function as a bridging currency, would also lend itself to this. But the image of XRP is no longer convincing to large parts of the crypto industry, mockers already see XRP as a mere speculation object. So it remains to be noted: XRP the actual use cases go missing, customers from the real economy can be convinced obviously only by monetary premiums.
Private investors should keep this dilemma in mind when investing in XRP. The still impressive market capitalization of XRP with more than 12 billion US dollars alone does not mean that this crypto currency will increase in value in line with the overall market. On the contrary: XRP can also be seen as a reminder when Altcoin's individual use cases run out and thus threaten to lose importance and value.
---
Best place to buy Bitcoin and XRP: