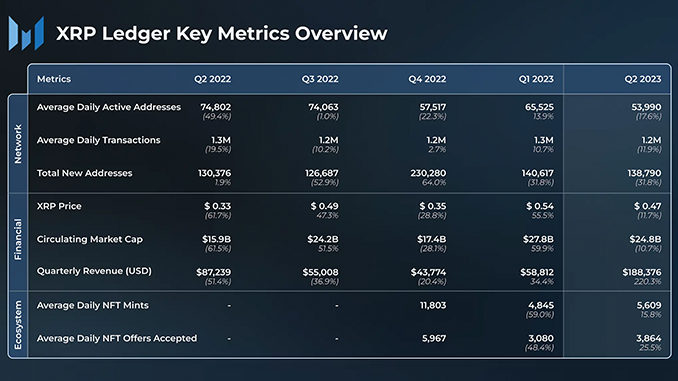 The Ripple (XRP) ecosystem has seen growth in Q2 2023, despite the ongoing litigation with the US Securities and Exchange Commission (SEC). NFTs, in particular, are contributing to the positive trend.
Ripple (XRP) has so far failed to fulfill hopes of gaining legal clarity on its status in the U.S. with a ruling in its case against the U.S. Securities and Exchange Commission (SEC). The Ripple vs. SEC ruling, widely expected in June, appears to be delayed perhaps even into the fall. But XRP's ecosystem is defying the uncertainties and has shown growth in Q2, as analytics firm Messari notes in a recent report.
Year-over-year, Ripple's market capitalization increased 42.5 percent and now stands at nearly $25 billion. As a result, XRP remains the No. 6 most capitalized global cryptocurrency. In Q1 2023, however, the market capitalization of XRP was still just under 28 billion U.S. dollars, so from quarter to quarter, Ripple has seen a drop of just over 10 percent.
What is striking in the Ripple ecosystem is that the NFTs division is picking up speed. Here, a separate standard for NFTs was established in November 2022, which makes a variety of uses possible. Meanwhile, XRP counts an average of 15,500 NFT transactions per day, which represents an increase of almost 13 percent compared to the previous quarter. The number of NFTs generated daily has also risen to 5,600 and this can be seen as a success for the Ripple NFT promotion program.
Messari's analysts are also positive about progress in the development work for XRP sidechains. With Coreum and Root Network, two projects are already live that are expected to sustainably expand the Ripple ecosystem. The further increase in the number of XRP addresses (+31.8 percent compared to Q2 2022) also speaks for an attractive ecosystem.
Conclusion: Ripple and XRP hold their ground despite SEC lawsuit.
When the SEC's lawsuit against Ripple and XRP in December 2020 set in motion the mammoth proceedings that continue to this day, more than a few observers classified this as a death blow to the ecosystem. However, Ripple succeeds in achieving technological advancement separate from the legal dispute. This is paying off for XRP in the NFTs space and more and more in Decentralized Finance (DeFi) projects. If the verdict in the SEC lawsuit is positive for Ripple, the foundation for a thriving XRP ecosystem seems already laid.
---