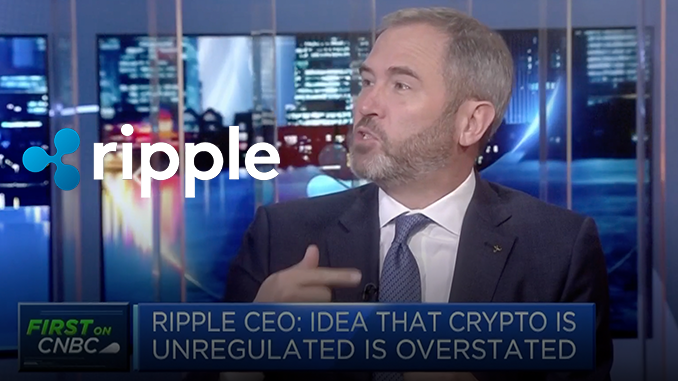 Ripple (XRP) intends to apply for a crypto license in Ireland, which would then allow it to do business throughout the European Union. Chief legal officer Stuart Alderoty sees future opportunities for Ripple in this.
Ripple (XRP) will have to continue on multiple tracks: In the U.S., ongoing litigation with the Securities and Exchange Commission (SEC) is hindering Ripple's expansion plans, but elsewhere in the world, the crypto company wants to grow with XRP while staying legally secure. In an interview with CNBC television, Ripple's chief legal officer Stuart Alderoty said they are preparing to apply for a crypto license in Ireland. Licensing there as a virtual asset service provider (VASP) is decided by the Irish central bank, and it has already issued licenses to crypto exchanges such as Gemini. As a VASP registered in Ireland, the so-called "passport system" will allow legal transactions throughout the EU, Alderoty points out.
The process is underway in the EU to establish uniform crypto rules for the entire Union. Alderoty welcomes the scheme as a "good plan." He also mentions that Ripple wants to achieve a license to handle electronic money in addition to VASP status in Ireland. In Ripple's core business, XRP serves as a bridge currency to speed up and cheaply handle international financial transactions. CEO Brad Garlinghouse had presented a glowing interim report a few days ago. Alderoty is now shedding more light on the fact that Ripple's growing revenues are based solely on markets outside the U.S., although about half of its 750 employees remain based in the United States. There are currently two Ripple representatives operating in Ireland, according to Alderoty.
Alderoty also commented on the court case in the U.S., which the SEC initiated in December 2020. "We are at the beginning of the end of that process," said Alderoty, who expects a ruling in the first half of 2023. Currently, the court is dealing with submissions from associations and companies that see their interests affected by the XRP litigation. The SEC classifies XRP as securities subject to registration ("securities") and is seeking damages and penalties of at least $1.2 billion for illegal sales of XRP by Ripple. Ripple cites Ethereum (ETH), among others, where the SEC has (so far) refrained from regulating. XRP, formerly the third largest cryptocurrency by market capitalization, also qualifies to be used without SEC regulation, according to Ripple.
Bottom line: Ripple wants to legalize XRP in the EU and open up new markets
So far, Ripple and XRP have had little presence in EU member states, focusing on London as a location in Europe. However, the financial capital London is now only conditionally suitable to serve as a starting point for EU business due to the Brexit. Ireland, with its low tax rates and moderate regulation, is considered attractive for crypto companies to bundle their EU-wide activities there. Thus, it seems to make sense for Ripple to choose Ireland as a location for registration in Europe. However, this does not eliminate the considerable litigation risks for Ripple and XRP in the USA.
---