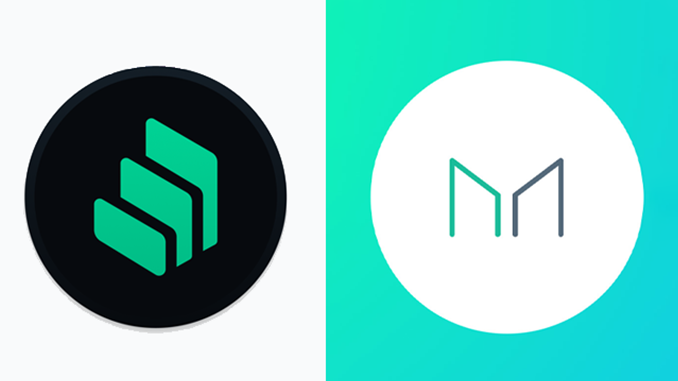 There has been a lot of movement in the DeFi market over the past few days. In particular, the price of the Maker (MKR) token, which is at the heart of the MakerDAO ecosystem, has soared. In this blog post, we take a closer look at the dynamics and possible drivers behind this development.
Maker is one of the most prominent platforms in the DeFi space, allowing users to mint the stable coin DAI against crypto assets as collateral. Last week, Maker posted impressive gains of 31.5% and finished an outstanding 7-day performance. These gains followed a vote to boost returns on the DAI stablecoin.
There are a few interesting factors that may have contributed to this impressive price action. First, the MakerDAO community voted in mid-June to increase the DAI Savings Rate (DSR) from 1% to 3.49%. This increase may have created additional incentives for users to hold and lend DAI, which in turn increased demand for MKR.
Second, data from Nansen shows that "smart money" holdings of MKR tokens have also increased sharply since May. These MKR holdings increased by 32% in June, with around $16.7 million worth of tokens added. This could be further evidence that experienced and institutional investors are increasingly investing in MKR.
Third, MKR trading volumes on crypto exchanges also increased last week. From levels around $10 million to $20 million in early June, they rose to a high of $100 million on July 1. This increased trading volume could be another indicator of increased investor interest in MKR.
Compound's COMP token led the weekly gains in the top 100 tokens on CoinGecko, with an impressive 76.1% increase in one week, from $37.62 last Monday. However, the recent price increases in Compound and Maker are not just related to the overall market sentiment. In Compound, the price increase may be due to speculation triggered by a new venture by Compound's founder, Robert Leshner. He launched a new company in the U.S. called Superstate, which will issue tokenized government bonds and promote the integration of DeFi with the traditional financial system.
There was also evidence of a short squeeze in the derivatives market that may have affected the price of COMP. Data from Coinglass show that liquidations, particularly on the short side, increased significantly toward the end of June, reaching three-month highs
In addition to the specific factors affecting makers, there are also general market trends that may have contributed to the positive price trend. Ethereum (ETH), the backbone of many DeFi projects, including Maker, surpassed its June high of around $1,920 at the start of July, boosting buyer confidence in the market. In addition, Index Coop's DeFi Pulse Index, which consists of the top 10 DeFi tokens by market cap, rose 14.5% in 7 days, compared to ETH's 3.7% since last Monday.
In summary, both specific developments within the Maker and Compound ecosystem and broader market trends may have contributed to the recent price appreciation of MKR and COMP. It remains to be seen if this upward trend will continue, but recent developments clearly show that interest in DeFi and specifically Maker and Compound is steadily increasing.
---