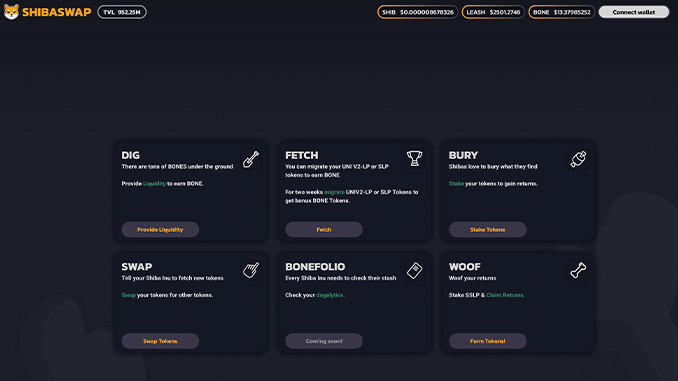 Shiba Inu's ecosystem has been expanded to include ShibaSwap as a decentralized crypto exchange. With this, the self-proclaimed Dogecoin killer SHIB is also turning its plans into reality.
ShibaSwap is the name of the newest contender in the competition of decentralized crypto exchanges. With the launch of ShibaSwap yesterday (Tuesday), the team behind Shiba Inu (SHIB) is opening a new chapter in its history, according to its blog post. The price of Shiba Inu rose about 2 percent on the impetus. But what is ShibaSwap really hiding?
Shiba Inu has been launched as a competitor to Dogecoin (DOGE) and wants to score with application purposes. In doing so, ShibaSwap is intended to become the hub of Shiba Inu's ecosystem as a decentralized crypto exchange modeled after Uniswap. Instead of paying fees to centralized crypto exchanges and relying on them to organize trades, decentralized alternatives like the new ShibaSwap aim to automate cryptocurrency trading. For this to be attractive, liquidity is needed to form trading pairs.
In attracting liquidity, SushiSwap pioneered the concept of its own token SUSHI as a reward for liquidity. ShibaSwap is now copying this approach and paying out BONE for liquidity provided in about a dozen altcoins. Since Shiba Inu itself is an ERC-20 token, Ethereum (ETH) is an obvious choice here. But deposits in Chainlink (LINK) and Graph (GRT), for example, are also rewarded.
By its own count, ShibaSwap has thus attracted a good $800 million in cryptocurrencies less than 24 hours after launch. By way of comparison, Uniswap in version 3 has attracted twice that amount, while Sushsiwap has attracted around 3 billion US dollars. In this respect, the launch of ShibaSwap seems to have been successful; the topic also attracted a lot of attention on Twitter for Shiba Inu.
Conclusion: Join ShibaSwap now?
The competition of decentralized crypto exchanges is played out on the basis of Ethereum, for one thing. Here, ShibaSwap with BONE as an extra commendation is certainly attractive in the startup phase. The still-anonymous team behind Shiba Inu states that ShibaSwap was extensively tested for potential bugs before launch and there is also something like an emergency brake to suspend trades in case of emergencies.
At the same time, of course, investors involved with DeFi know: the Achilles' heel of platforms like Uniswap and ShibaSwap based on Ethereum are the high fees incurred when transacting ETH. That's why PancakeSwap (CAKE) with Binance Coin (BNB) as its foundation and QuickSwap with Polygon (MATIC), for example, have already secured large market shares, because the fees here are much lower than under Ethereum.
Whether Shiba Inu will nevertheless succeed in sustainably shaking up the market through ShibaSwap remains open for the time being. In the DeFi segment, capital is quickly moving to where the best returns are tempting.
---
Open a Binance Account here and save 10% on fees for a lifetime.