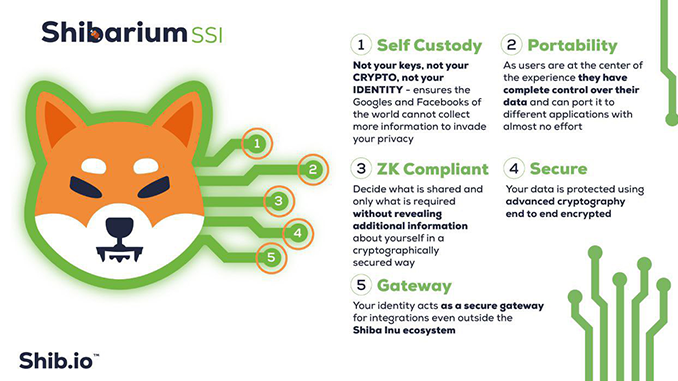 Shiba Inu (SHIB) plans to incorporate an identity protocol into its ecosystem. This is to emphasize that Shiba Inu is often unfairly dismissed as a meme coin. Shibarium is also nearing a launch.
Shiba Inu (SHIB) has often been categorized as a meme coin and compared to Dogecoin (DOGE) since its stock market debut in 2020. However, the developers at Shiba Inu and probably many investors have long recognized that such an image blocks medium- and long-term prospects for SHIB. So Shiba Inu is now stepping up its efforts to expand the ecosystem and enable serious use cases for SHIB.
Via its official Twitter account, Shiba Inu is highlighting its intention to embed the Self-Sovereign Identity (SSI) identity protocol in all applications for SHIB. SSI is also supported as an identity protocol in IOTA, for example. The Shiba Inu developer, who goes by the pseudonym Shytoshi Kusama, justifies the importance of SSI integration by saying that issues such as digital identities and data security are becoming more important in the EU and Canada. With SSI, Shiba Inu's ecosystem will come of age, Kusama said.
Reference is made to the upcoming launch of Shibarium. Work on this Layer 2 solution for SHIB has been going on for about a year, and the test phase of Shibarium, which has been running since March, is nearing its end. When Shibarium is expected to go live before the end of August, Shiba Inu will be able to build decentralized apps on top of sidechains to improve transaction processing speed and fees. If DApps then choose Shiba Inu as their ecosystem, SSI could become a sought-after and welcome addition.
For now, however, this is still a pipe dream. When Shiba Inu launched its own Decentralized Crypto Exchange (DEX), ShibaSwap, in the summer of 2021, greater success failed to materialize. ShibaSwap is still live today, but with daily turnover of a few million US dollars, it cannot even occupy one percent of the total DEX market. SHIB itself holds a commanding position in the top 20 major cryptocurrencies with a market capitalization of around $5 billion.
Conclusion: Shiba Inu in search of a new profile
Initially, it was enough for Shiba Inu to attract attention with its image as the "Dogecoin Killer." But while DOGE hopes to become a currency on X aka Elon Musk's Twitter, Shiba Inu now probably prefers to compete with rivals like Cardano (ADA) and establish a large ecosystem around SHIB. If this succeeds, Shiba Inu could actually get rid of the unloved label of meme coin.
---