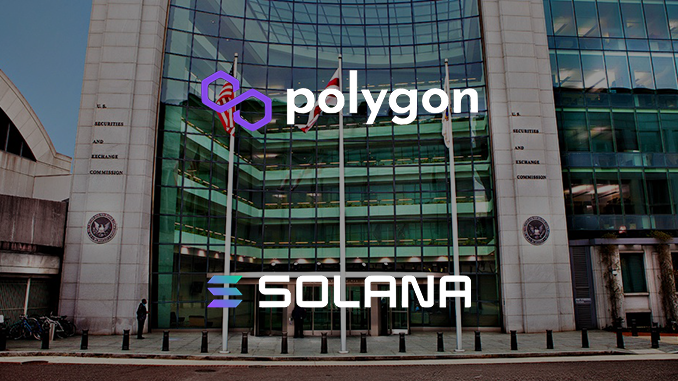 The wave of lawsuits filed by the U.S. Securities and Exchange Commission (SEC) against the crypto industry is meeting with resistance: now Solana (SOL) and Polygon (MATIC) are also firmly defending themselves against the classification as securities.
Last week, the U.S. Securities and Exchange Commission (SEC) virtually declared war on the crypto industry with lawsuits against crypto exchanges Binance and Coinbase. As part of the wide-ranging charges, more than a dozen cryptocurrencies were also classified as securities by the SEC. After Cardano (ADA) took a firm stand against the SEC's position, Solana (SOL) and Polygon (MATIC) are now also mobilizing. Cardano, Solana and Polygon are particularly hard hit by the SEC wave of lawsuits because leading U.S. new broker Robinhood has already announced its delisting as of June 27.
The Solana Foundation clarified its stance via Twitter, saying it "disagrees with the classification of SOL as a security." Solana has suffered a drop of about 30 percent in price since the SEC's tighter action. Now, the Solana Foundation writes, it is also concerned about thousands of entrepreneurs operating in the cryptocurrency space in the United States. These need regulatory clarity and efforts by policymakers in this direction would be welcomed. The SEC has already been criticized in the past for not providing the crypto industry with clear guidelines, but instead always going straight to court.
The shock about the SEC's frontal attack is also deep at Polygon, 30 percent weekly minus at MATIC speaks for itself. On Twitter, Polygon Labs emphasizes that the project was "developed outside the US, launched outside the US, and focused on the international community from day one". This is interpreted as a rejection of the SEC as the responsible authority for MATIC. MATIC is an indispensable part of the Polygon network, write those responsible, and they have therefore made the altcoin accessible to a "wide group of people, but only with actions that were not aimed at the USA at any time." Deutsche Telekom has also recently become involved in Polygon through a subsidiary as a validator on the network.
Conclusion: Cardano, Solana and Polygon fear their end in the US market because of the SEC
The SEC has also attacked heavyweights among the altcoins with the lawsuits against Binace and Coinbase; in addition to SOL, ADA and MATIC, Binance Coin (BNB) is also newly affected from the top 15 of the most capitalized cryptocurrencies. The crypto scene recalls the case of Ripple (XRP), where a lawsuit filed by the SEC in December 2020 very quickly led to the delisting of XRP on almost all North American crypto exchanges, resulting in a freeze of US business for Ripple. But for XRP, Ripple has fought back legally, and court-ordered release of internal SEC documents on the position finding is expected these days. These are also likely to be studied closely by Cardano, Polygon and Cardano to subsequently back up their opposition to the SEC with legal arguments.
---