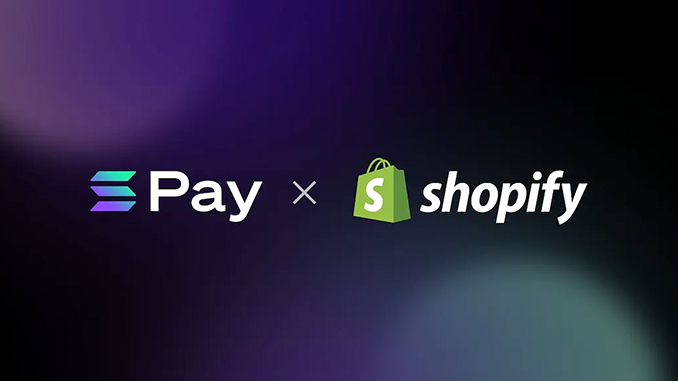 In the Solana (SOL) ecosystem, a payment service called Pay has existed since 2022. Now Shopify has integrated Solana Pay, bringing the service to a mass market. Additional prospects are interesting.
The crypto industry is relentlessly looking for ways to build monetary bridges to other industries. One obvious option here is to enable payments in crypto for ordinary services and goods. Solana Pay was a pioneer with a launch date of February 2022. Solana (SOL) provided a module here that allows online services to accept payments in USDC, a leading stablecoin that mirrors the U.S. dollar. Now Solana Pay is coming to Shopify.
In a press release, Solana Pay proudly reports it is reaching millions of merchants through its integration with Shopify. Shopify is known for its software solutions for Internet stores, which collectively generate more than $400 billion in revenue annually. They could now unlock Solana Pay as an additional payment method. But to be honest: Internet-friendly payment services such as PayPal, Google Pay or Apple Pay have long been established and mature, hardly anyone is likely to have waited for Solana Pay as a mere payment service.
Therefore, it is much more exciting to take a closer look at the additional possible features mentioned by Solana Pay. For example, one can also transfer NFTs here as giveaways or engage in customer loyalty via crypto-cashback. Blockchain solutions such as Solana Pay really come into their own in such applications. However, they are still known almost only to experts. Solana Pay had apparently also hoped for cooperation with PayPal in the form of a new stablecoin. However, PayPal USD (PYUSD) was ultimately launched this month without Solana's cooperation.
Conclusion: Solana Pay at Shopify – more than a marketing stunt?
As a publicly traded company, Shopify records its own annual revenues, which are roughly equivalent to Solana's market capitalization. For the e-commerce giant, the integration of Solana Pay wasn't even worth its own press release. The history of Bitcoin and Co. is full of collaborations with traditional industries announced with great fanfare, which in retrospect turned out to be a zero number or even fake. In theory, Solana Pay has unique selling points as a blockchain solution, but it has not yet managed to translate these into user-friendly practice. Shopify, by the way, has also been indirectly cooperating with Avalanche (AVAX) since the beginning of the year – and basically nothing more was heard of this cooperation after the launch.
---