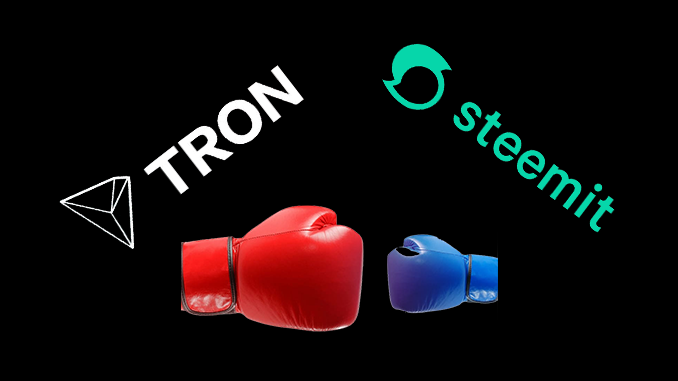 Steem's blessing hangs crooked: Against the will of the community and the core team, leading crypto exchanges and TRON have pushed through a hard fork that has far-reaching consequences. Steem tokens are frozen for an estimated 13 weeks. Critics speak of a hostile take-over.
Troubled times at Steem (STEEM): Developers, community and parts of the team complain about a "hostile takeover" on Twitter and other channels. Justin Sun for TRON, Changpeng Zhao for Binance and representatives of Huobi hung out talk of a necessary step to fend off an attack by hackers. So what is going on with the crypto currency STEEM, which with a market capitalization of a good 63 million US dollars is currently ranked 72nd in the TOP 100? Blockchain and concept of STEEM were developed by the company Steemit Inc. (behind it was also Dan Larimer, who is now responsible for Eos)). The idea: Bloggers publish their articles via Blockchain and are rewarded for it in STEEM, depending on the number of readers. But then TRON bought Steemit in mid-February and obviously that's where the whole mess started.
What is the conflict about STEEM about?
Even the former TRON at Steemit was not well received by the community and developers. They feared that they would soon be forced into the block chain of TRON and TRX as a means of payment. TRON's dazzling leader, Justin Sun, is also known for his unpredictable behavior and questionable leadership style. As a result, Steem's soft fork 2.2 was used to deactivate the voting rights of TRON and Steemit, and to freeze approximately $10 million worth of STEEM, which belongs to Steemit. The suspicion suggests that TRON and Justin Sun were intended to make it clear that they are not wanted in Steemit. Justin Sun, on the other hand, speaks on Twitter of a hacker attack.
https://twitter.com/justinsuntron/status/1234690483298820097
Of course TRON/Steemit did not want to put up with this and turned back the clock with Hard Fork 22.5. To enforce the hard fork, they needed support. They got this support from the crypto exchanges Binance, Huobi and Poloniex (where Justin Sun last invested). They actively used STEEM, parked for staking, for the first time to participate in votes on the further development of Steem and joined the march of TRON/Steemit. So at the core of Steem is currently about who will steer future development: TRON and Justin Sun or, as before, the community in harmony with the Steemit team.
What are the consequences of the turbulence in Steem?
What Binance, Huobi and Poloniex probably thought of too late is that the tokens are now unavailable for 13 weeks. This means that Binance customers will not be able to withdraw their Steem from the Exchange at the moment. Many Binance customers will of course not be happy with what is happening. In an open letter to the community, which has also been reposted by Justin Sun, Steemit aka TRON promises to make Mainnet fully operational again earlier with another hard fork. The staking time should be reduced to 1-3 days. The stock exchanges (Binance, Huobi and Poloniex) would thus get the Steem back earlier. In addition, it is promised not to let the Steem Blockchain merge into TRON against the will of the community. Third promise to calm the spirits: The voting rights of Steem and the crypto exchanges will no longer be exercised once order is restored to Steem.
For the moment, however, all this was not enough to restore peace in the house. With developer Michael Vandeberg, head of communications Andrew Levine and software engineer Steve Gerbino, at least three members of the previous Steemit team resigned. The team behind the Steem Wallet withdrew the app, other external developers followed suit with their apps. Steemit around Justin Sun and TRON is now in control, but Steem is only supported by parts of the community and loses important resources.
Why the interference of Binance and other crypto exchanges is piquant?
Binance, Poloniex, Huobi and other crypto exchanges have sided with TRON and Justin Sun in the internal war at Steem. This is sometimes met with little understanding, as they use STEEM from investors who stock with the platforms in order to make money by staking. Normally one would assume that the crypto exchanges, as trustees of customer assets, would behave neutrally in internal disputes. CZ for Binance, after all, says () in the meantime that he has reconsidered his position and Binance will probably withdraw the use of voting rights.
https://twitter.com/cz_binance/status/1234574737768095746?s=20
Similar things can also be heard from Huobi. The crux: Since STEEM tokens are currently not movable by Hard Fork 22.5, it is unclear whether this is technologically possible at all.
Harsh criticism of the situation also comes from crypto-legend and Ethereum inventor Vitalik Buterin. He speaks on Twitter of the first example of a "de facto attack by bribery" and aims to make Justin Sun personally friends with CZ and other stock exchange bosses. They reject the accusation that money was spent on their decision to support Sun. Nevertheless, Buterin hits the sore spot: Coordinated use of client funds in the form of STEEM and the associated voting rights for groundbreaking decisions at Steem? This has more than a strange aftertaste.
Apparently Steem DPOS got taken over by big exchanges voting with depositors' funds. Can anyone confirm and/or provide details?

Seems like the first big instance of a "de facto bribe attack" on coin voting (the bribe being exchs giving hodlers convenience and taking their votes) https://t.co/cEX7PLnbUW

— vitalik.eth (@VitalikButerin) March 2, 2020
What's next for Steem and Steemit?
For the moment the situation with Steem is frozen by Hard Fork 22.5. Technically, this can only be resolved by another hard fork. The Witness list of Steem shows the current majority situation. It shows the validating nodes and among the first 20 that are allowed to be active, the hard fork 22.5 initiated by TRON holds an overwhelming majority. But maybe Justin Sun also understands that Steemit and STEEM are worthless without an active community and gives in. He and TRON may be able to win the power struggle for the block chain, but without the participation of the organically grown Steem community, the actual concept of Steemit no longer works.
In any case, the question remains whether it is okay for crypto exchanges to exercise voting rights through coins that actually don't belong to them but to their customers. Binance in particular is under observation, because TRON, in turn, is in a leading position by entering staking there and could theoretically influence decisions.
---
Those who don't have Bitcoins yet can buy them from eToro.