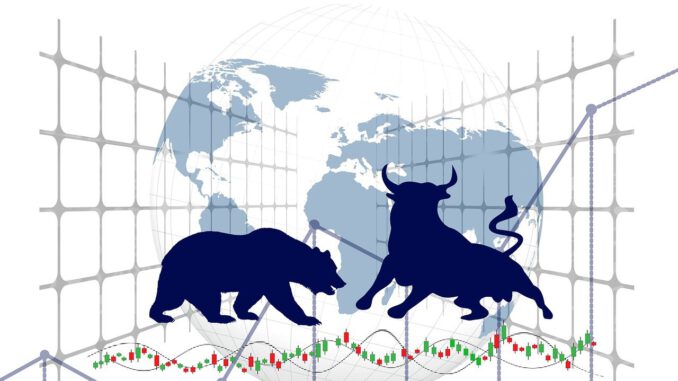 The markets are crashing and panic is spreading among investors. Block Builders sheds light on this crash of historic proportions in a new infographic. 
Virtually all assets are currently heading in the same direction: down. This is even true of the precious metal gold, which is widely considered a defensive investment, yet has fallen by around 4.4% in the past month. The DAX (-1.2), S&P 500 (-12.8%), silver (-9.6%) and, above all, bitcoin (-25.8%) have suffered much greater losses.
The massive sell-off of Bitcoin is causing a stir in the cryptocurrency scene in particular. The narrative that Bitcoin is a crisis currency, so-called digital gold, has become more and more prevalent in recent months and years. So what is behind this new development?
Market observers see 3 factors as being mainly responsible for the current crash: supply bottlenecks in the face of the coronavirus lockdowns in China, measures taken by the US Federal Reserve, specifically the targeted reduction of the money supply to get a grip on inflation, and the Ukraine war and associated geopolitical risks.
As the infographic shows, this combination of factors has led to an historic slump. The S&P 500 has even had its worst start to the year since 1942. Financial market experts believe it is likely that the turmoil on the financial markets will continue to increase in the coming weeks. It could take months for "new assessments of geopolitical and economic developments to solidify". Unlike the pandemic-related crash of 2020, the situation is currently more opaque.
The current development is resulting in significantly fewer private investors currently searching for assets such as cryptocurrencies, gold and shares, as is reflected in Google search data. Again, there is a marked difference to the crash of 2 years ago. At that time, the number of searches went through the roof and investors felt this was the time to get their foot in the door at a reasonable price. But now fear, not greed, is prevailing.
The crypto market is particularly affected. The Fear & Greed Index, a measure of market sentiment, currently stands at 11 points ("extreme fear"), with a maximum value of 100 expressing the greatest possible euphoria.
The fact that Bitcoin, Ethereum & Co. have suffered such a sharp decline may have something to do with the fact that there are more and more institutional investors on the market, who now account for a much larger share of crypto ownership. These large investors are in turn currently avoiding risk and appear to be rejecting tech stocks and cryptocurrencies in equal measure.