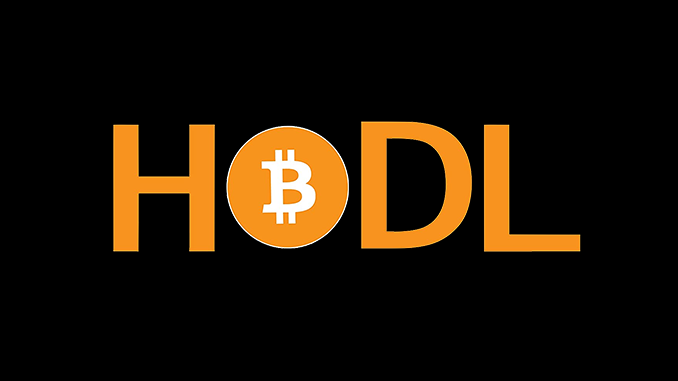 According to analysts at Glassnode, a good 60 percent of all Bitcoin (BTC) currently in circulation has not been moved for at least a year. Such a clear trend towards HODL was last seen in 2016/7, ahead of the bull market with its all-time high.
After the Bitcoin Halving in May, many investors hope that the forecast of a renewed bull market will prove to be true. Their optimism is supported by a measurable phenomenon that Glassnode is drawing attention to. The company, which specializes in block chain analysis, points this out via Twitter: A good 60 percent of all Bitcoin (BTC) in circulation has been left untouched on their addresses for over a year. HODL calls the crypto scene such behavior. And Glassnode also notes that the last time Bitcoin investors have opposed such a concentrated trend towards "wait and see" behavior is in 2016 and 2017. At that time, the Bitcoin market only started to move again when BTC's price curve rose sharply and finally reached its all-time high of $20,000.
HODL as a recipe for success in trading BTC?
There is no guarantee that apparent regularities in the price development of Bitcoin will be repeated. For this purpose, 10 years of observation on a data basis are simply too short and even on classic stock markets such forecasts often go wrong. In addition: Glassnode seems to include the so-called lost bitcoins in its analysis – if these were deducted, the figure of 60 percent of all BTCs on HODL would no longer be sustainable.
But there are also reasons to support the thesis of an imminent bull market. For one thing, investors have used the period before Bitcoin Halving to buy additional shares, especially directly around "Black Thursday". Also those who in the middle of 2010 used HODL as a strategy and then realized profits during the boom have bought BTC again and are now waiting again with HODL for new highs. Moreover, the demand for Bitcoin remains unbroken. It should also not be forgotten that financial instruments such as Bitcoin Futures and Options are now used to trade a lot with the use of a few BTCs plus leverage, which actually moves comparatively few Bitcoin.
Conclusion: HODL at Bitcoin means optimism
In summary, it is longer-term thinking investors who are certain that BTC will increase its price significantly again and that it is therefore worth waiting to sell. Meanwhile, Bitcoin has finally passed the psychologically important USD 10,000 mark again. Is this just a short-term effect or the beginning of a bull ride? The next few weeks will show this and HODLers will definitely have the advantage of not having to worry about their investments every day.
---
Best place to buy Bitcoin: