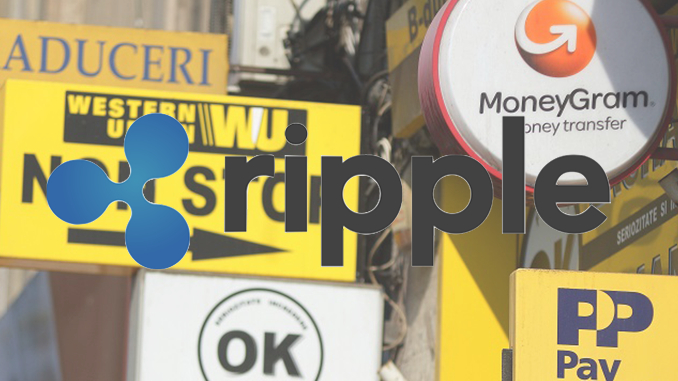 According to a media report, the US financial services provider Western Union has made a takeover bid for its competitor MoneyGram. Ripple holds almost 10 percent of the shares in MoneyGram, which uses XRP for international transfers.
A spectacular takeover in the financial sector could be imminent in the USA, which would also affect Ripple (XRP). According to a report by the business news agency Bloomberg, Western Union has submitted a purchase offer to MoneyGram. Western Union is considered the world market leader among financial service providers that enable cross-border cash transfers. MoneyGram is one of its major competitors and since summer 2019 Ripple has been one of the co-owners. The companies have not yet commented on the report, which refers to a person familiar with the matter.
What a takeover of MoneyGram could mean for Ripple and XRP
When Ripple invested $30 million in MoneyGram about a year ago and later added another $20 million, it had a strategic goal. In return, MoneyGram agreed to use Ripple's ODL (formerly xRapid) in the future and thus also XRP as a bridge currency. This helped the XRP share price in the short term, but there were also good reasons to doubt the sense of this strategic investment by Ripple. In any case, Ripple now holds almost 10 percent of the shares in the listed MoneyGram.
The share prices of MoneyGram and Western Union benefited significantly from the takeover rumors. According to Bloomberg, MoneyGram is burdened with a mountain of debt of almost 900 million US dollars and is currently valued on the stock exchange at a good 160 million US dollars. Western Union, with a valuation of 8.5 billion US dollars, is quite different and would further strengthen its position as market leader through the takeover. The Corona crisis has created difficulties for both companies, as in many countries lockdowns have made it difficult or impossible to transfer money in and out. Even now, losses in the core business can be foreseen, as it is often migrant workers who transfer money home via such financial service providers and are now partly without work.
In the event of a takeover, Ripple will closely monitor what happens with the use of XRP and technology. Western Union had tested Ripple's solutions, but will also work on its own technology. Ripple with XRP in turn sees itself as a pioneer for fast and inexpensive international transfers. If MoneyGram were to disappear as a model partner, this would be a setback for XRP. On the other hand, Western Union's commitment to Ripple (and XRP) could become a knighthood.
Course of XRP is bobbing along
Since then, XRP has never been able to reach the short-term high of almost 0.50 US dollars from the summer of 2019. Plans for an IPO presented by Ripple CEO Brad Garlinghouse did not help either. The crypto industry has long understood that banks and financial service providers appreciate Ripple's block-chain-like network, but avoid XRP. Even now the price of XRP could not benefit from the possible takeover of MoneyGram and is quoted at around 0.20 US dollars. Most recently, XRP had to cede the prestigious third place among the largest crypto currencies to Tether (USDT).
---
Best place to buy XRP: