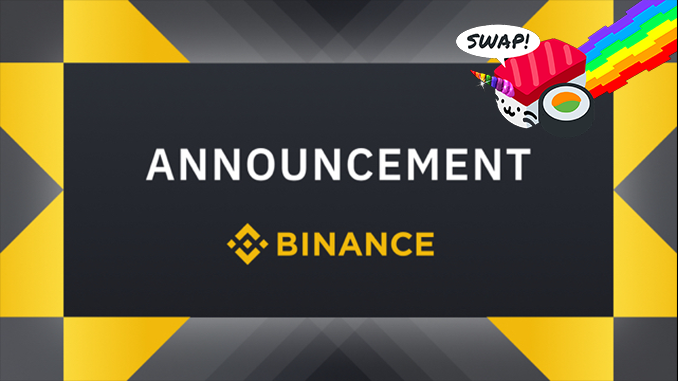 The DeFi-Token SUSHI (SushiSwap) has only been on the market for a few days and is still on everyone's lips because of its concept and current huge winnings. The crypto stock exchange Binance reacted quickly and has already included SUSHI in its portfolio. The same was done with YFII (DFI.Money).
DeFi is undoubtedly the crypto topic of the hour and Binance, as the world's largest crypto exchange, is accommodating its customers with the listing of two of the most exciting tokens from this sector. Immediately the trade with SushiSwap (SUSHI) and DFI.Money (YFII) is opened with Binance, is called it in a report. Both SUSHI and YFII are traded at Binance against Tether (USDT), Bitcoin (BTC), Binance Coin (BNB) and the Binance Stablecoin BUSD.
Background on SUSHI
SUSHI with the DeFi platform SushiSwap, which is to be opened, is preparing to replace Uniswap. In addition one wants to poach liquidity there for Krypto lendings and offers as reward for investors willing to change SUSHI. The price of the DeFi-Token shot up, although SUSHI and SushiSwap are still waiting for the results of an external security check. Observers note: Prices for SUSHI were first recorded on the open market on August 29th – it is unusual that Binance lists such a young project almost immediately.
Background on YFII
YFII with its platform DFI.Money is dedicated to DeFi loan transactions and promises to invest deposits automatically and optimally, keyword field farming. YFII was created as a spin-off of YFI (yearn.finance). YFII's share price has risen by more than 100 percent in the past few hours, and the listing on Binance is probably one of the reasons for the steep curve.
Conclusion: Binance facilitates participation in the DeFi boom
Some specialists rub their eyes when they see the price jumps at Altcoins from the DeFi division. There is currently a breathtaking dynamic there and indeed the concepts of SUSHI and YFII have innovative potential. At the same time, however, the price curves indicate that the two tokens are also seen by the market as speculative objects, and the listing at Binance supports this trend. In order to profit from SUSHI and YFII in the best possible way, Binance is only suitable to a limited extent as long as the staking of these tokens is not supported there.
Meanwhile, Binance CEO Zhao Changpeng sounds an unusually warning note. On Twitter "CZ" wrote with regard to the extended Portfolio and DeFi boom: "I see up-to-date a quantity of bubbles in DeFI. The core concept of DeFi-Staking Coins will establish itself with interest for the supply of liquidity. But the dream returns subsidized by the issuance of new tokens will not last, the head of Binance believes and concludes: "Super high risk. Stay cautious".
---
Open a Binance Account here and save 10% on fees for a lifetime.