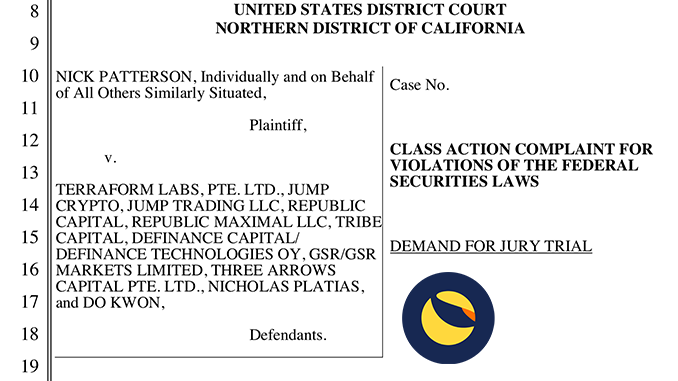 Terraform Labs, founder Do Kwon and others are facing a class action lawsuit in the U.S. after the downturn of Terra (LUNA) and Stablecoin UST. Investors feel they have been defrauded and are seeking damages.
The bankruptcy of Terra (LUNA) and the algorithm-linked stablecoin UST is getting a legal aftermath: A class action lawsuit for damages has been filed in the USA on behalf of investors. Terraform Labs, the crypto company behind LUNA and UST, founder Do Kwon, and ten other companies that championed the Terra ecosystem are being sued. The plaintiffs accuse them of selling UST and LUNA without necessary authorization and also of disseminating misleading information. No comment from Do Kwon or Terraform Labs, the lead defendants, has yet been disclosed. The complaint compares the collapse of LUNA and UST to the 2008 bankruptcy of investment bank Lehman Brothers, one of the main triggers for a widespread international financial crisis.
Conservatively calculated, the crash at LUNA and UST burned at least $40 billion of investors' capital within a few days after May 6. They had trusted that UST would be stably pegged to the U.S. dollar and often put their money into the DeFi Protocol Anchor, where there was supposed to be 20 percent annual interest. But UST's concept collapsed when large investors began withdrawing their investments from the Terra ecosystem. According to plaintiffs' calculations, UST (TerraUSD) lost 91 percent of its value between May 6 and May 9, and LUNA lost as much as 99.7 percent.
Did Terraform Labs deliberately evade the U.S. Securities and Exchange Commission?
It is now being argued that Terra should be classified as a security in the USA, but that no SEC approval was sought for the sale. This type of argument is familiar to the crypto industry; Ripple (XRP), for example, is being sued by the SEC on a similar premise. A Howey test would have revealed approval requirements for LUNA and UST, the class action lawsuit says. It says it represents more than 100 investors claiming aggregate damages of more than $5 million and thus meets statutory requirements for a class action.
Apart from the missing permission by the SEC the plaintiffs refer to advertisement and information to Terra, UST and Anchor protocol, which suggested absolute stability of the ecological system against better knowledge. The responsible persons around Do Kwon and Terraform Labs should have known that the reserves of the Luna Foundation Guard (LFG) were not sufficient to support UST in the endurance test. Also recalled is an earlier project by Do Kwon called Basis Cash (BAC), which also saw an algorithmic stablecoin slide into worthlessness in 2021.
Bottom line: will legal reappraisal of LUNA and UST succeed?
The class action lawsuit was filed in a district court in California. A jury trial has been requested. Whether the court will take up the case is still open. In recent weeks, it has also become known that the SEC itself is investigating Terra in the USA and in Do Kwon's home country of South Korea. It remains to be seen whether this will result in a clear apportionment of blame. Whether damages will then be awarded and paid remains the most important question for affected investors.
---