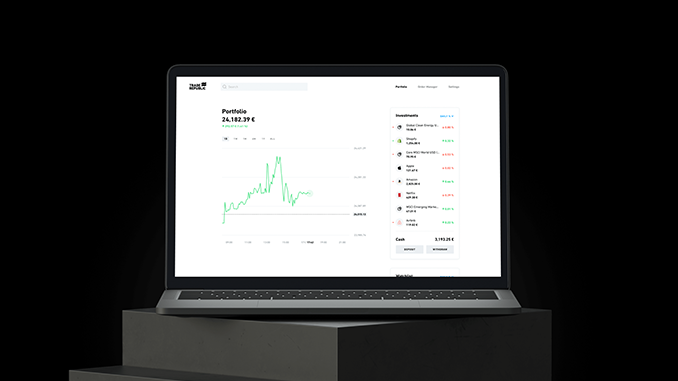 The German online broker Trade Republic is expanding its range of services with a web version. This means that Trade Republic can also be used easily from PCs and laptops.
Trade Republic has gained massive numbers of customers in recent years as an online broker for smartphones, with more than a million people relying on Trade Republic. But not everyone is keen on conducting money transactions on the small screens of smartphones. So Trade Republic is now coming out with a web version to accommodate all those who prefer to sit in front of a computer when trading stocks, ETFs, derivatives and cryptocurrencies. For existing Trade Republic customers, access to the web version is automatically activated. New customers – by the way, also in Austria and France – will probably be able to use the web version of Trade Republic from one of the coming weeks.
Trade Republic – these are the advantages and disadvantages
In our test of Trade Republic there were plus points for the commission-free share purchase, generally very low fees, ease of use and German-language support. Also important: Trade Republic is registered as a German securities trading bank and thus audited by regulatory authorities. These advantages also apply to the web version. And especially investors who pursue more complex strategies or set up savings plans should now be happy to have more overview due to larger screens at the web version of Trade Republic. Of course, the web version also works on tablets.
While Trade Republic covers a very broad market spectrum with more than 9,000 traded stocks and ETFs, it still looks somewhat limited when it comes to cryptocurrencies. Currently, Trade Republic enables the buying and selling of Bitcoin (BTC), Ethereum (ETH), Litecoin (LTC) and Bitcoin Cash (BCH). So, there is still room for Trade Republic to grow in this segment.
Thus, Trade Republic is especially recommended for investors who see Bitcoin and Co. as an addition to their portfolio and do not want to deal with the often complicated handling of crypto exchanges. We classify FinTechs like Bitpanda and eToro as the natural competitors of Trade Republic.
Conclusion: Trade Republic fulfills customer wishes with web version
The market of so-called neobrokers is growing rapidly, and not only the younger generations like to invest their funds via platforms like Trade Republic. Low fees plus the possibility to invest in various asset classes from one customer account is a concept that is gaining more and more followers. Trade Republic does not reinvent the wheel with its web version – but this option makes it easier for customers who do not want to give up their familiar PC or laptop at Trade Republic.