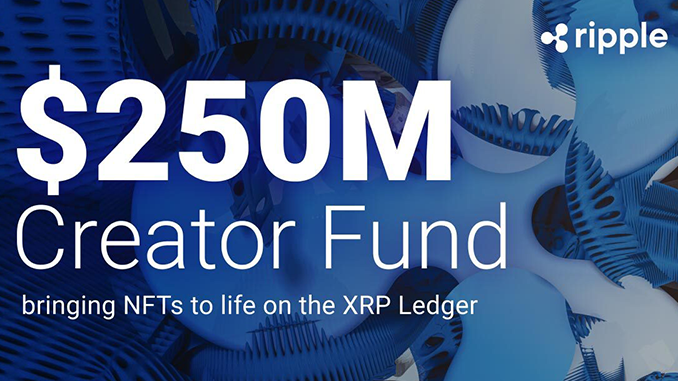 Ripple (XRP) wants to attract creators and developers via a $250 million NFT fund. They are to make XRP ledgers attractive for NFTs.
Non-fungible tokens (NFT) have received a lot of attention in crypto year 2021, and not just because of price records. The unique tokens are suitable for creative projects as well as blockchain games or diverse uses in the business world. At Ripple (XRP), there have already been several signals from the management level and the developers this year that they want to discover the topic of NFTs for their own ecosystem. Now, Ripple is launching a Creator Fund with 250 million US dollars.
According to the press release, the fund provides money and technological support for creators and developers, but also for brands and NFT marketplaces. Applicants are expected to build their projects on Ripple Ledger, Ripple's non-XRP fixed network. Partners in Ripple's Creator Fund include the Mintable platform, in which Ripple took a financial stake this summer.
What's the case for NFTs on Ripple?
Older and well-known NFT projects such as CryptoPunks are consistently anchored in the Ethereum (ETH) ecosystem. However, NFT projects are also increasingly settling at Solana (SOL) and Tezos (XTZ), for example. Ripple promotes its network as particularly energy-efficient and fast with very low fees. XRP Ledger, however, has yet to be expanded to include NFT functionality.
Ripple hopes that new ideas will also be brought in through the NFT Creator Fund. Interactive NFTs are cited as an example, as well as the option to chunk ownership of an NFT, which would open up new trading opportunities. The initiative program is starting now and so it should be a few months before the first results are seen. From the description of Ripple it is clear that they are already thinking about NFT 2.0 and thus just do not want to copy already proven concepts.
Conclusion: Ripple and NFTs – theoretically a good duo
For investors, the price curve of XRP remains the benchmark for Ripple. The price of XRP did not react noticeably to the NFTs Creator Fund and Ripple also mentions its cryptocurrency in this project only in side sentences. This is because in the US, the lawsuit with the Securities and Exchange Commission (SEC) hangs over Ripple and XRP like a sword of Damocles, weighing down future plans. Thus, the prospects for NFTs at Ripple seem unclear – even if, from a technological point of view, a proven network can be brought in with XRP Ledger.
---
Best place to buy Bitcoin and Ripple (XRP):