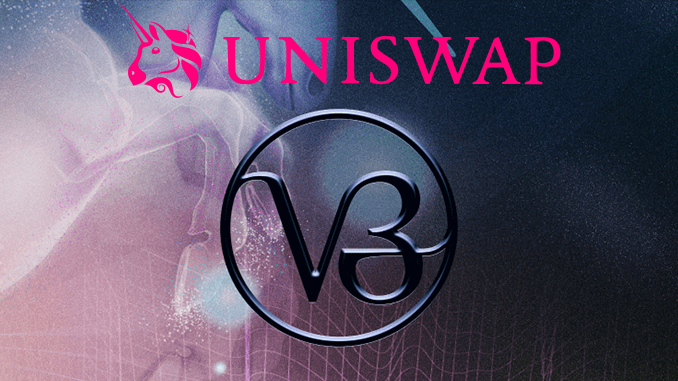 Leading decentralized crypto exchange (DEX) Uniswap is preparing for a major update. With version 3, Uniswap (UNI) aims to strengthen its central role in the DeFi sector with smart details.
Uniswap is undisputedly one of the most important DeFi platforms, with deposited capital of nearly $5 billion and daily trading turnover of around $1 billion. Its own token UNI marked a new all-time high of a good 36 US dollars just yesterday. However, competition is fierce in the DeFi division of the crypto industry and today's successes by no means guarantee future ones. Uniswap had to learn this only half a year ago, when the suddenly appearing competitor SushiSwap forced it to innovate. Uniswap does not want to get into trouble again and is therefore preparing an upgrade from version 2 of the protocol to version 3. Uniswap V3 is scheduled to go live in May, according to the official announcement , and will implement some promising new ideas.
Uniswap V3 – what changes?
The main innovation in Uniswap V3 will be to make the rules more efficient than before when forming liquidity. Until now, liquidity pools have also had to hedge extremely high fluctuations of the managed cryptocurrencies, which leads to the fact that large parts of the deposited money are not even used in day-to-day business. With Uniswap V3, it should be possible to determine a price corridor at which the injected capital may be used. This could increase efficiency by a factor of 4,000, Uniswap believes.
The reorganization of the fee policy is also aimed in the direction of higher efficiency: With three different fee rates in the future, Uniswap wants to reorganize the previously uniform fee system and link fees more closely to risk. Currency pairs with stablecoins, for example, will then be subject to lower fees than currency pairs consisting of two cryptocurrencies, both of which fluctuate more strongly.
The third major issue with the move to Uniswap V3 deals with licenses. Until now, Uniswap's code was available as open source, which made the surprise success of SushiSwap possible in the first place. In order to protect itself from copies, Uniswap wants to protect the code of Version3 with a business license and only release it to everyone after two years.
Uniswap V3 – the schedule
The target date for the upgrade to Uniswap V3 is May 5, and tests by external security companies have already been positive. For a public bug county program another 500,000 US dollars premium is allocated in the next 30 days. If Uniswap V3 works as expected, a few weeks later an additional module called Optimism should solve current challenges. Optimism is designed as an internal layer of Uniswap to help mitigate capacity issues on Ethereum's blockchain and the sharp increase in transaction fees there. With Optimism, Uniswap V3 would switch to documenting only its own milestones on Ethereum's blockchain and handle the many smaller transactions internally.
Bottom line: UNI benefits from innovation at Uniswap.
Uniswap itself admits that the upcoming major update is a complex challenge. But in terms of content, what has now been announced makes perfect sense and, if successful, solves real problems. UNI's beefy trend thus gets further support. A key question for Uniswap, however, remains: With its roots in the Ethereum (ETH) ecosystem, it was well prepared when the DeFi boom picked up steam in the summer of 2020. However, a direct competitor, PancakeSwap, has since emerged and approached Uniswap in liquidity and trading volume. PancakeSwap relies on the Binance Smart Chain instead of the Ethereum Blockchain.
This solution, in the view of many experts, has the potential to outpace Uniswap and other Ethereum-based DeFi projects for technological reasons and Binance's market power. There, the preparations for Uniswap V3 will be watched with great interest and probably already work on elegantly copying the future plus points of UNI and Uniswap itself – because only the code is protected with Uniswap V3, not the concept.
---
Open a Binance Account here and save 10% on trading fees. You can find a Binance tutorial here.