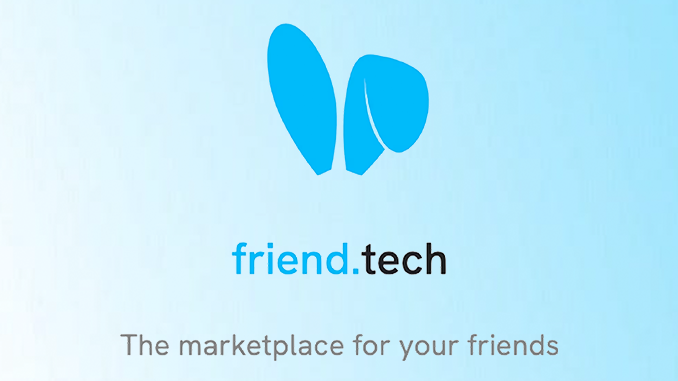 A new crypto app called friend.tech is attracting millions of US dollars in Ethereum (ETH). Yet the concept of friend.tech is complicated and other details are also controversial. Time for an overview of the project on Base.
Heard anything about friend.tech yet? Then you are one of those who recognize hypes and trends early on. Because the new crypto app friend.tech has only been live for a few days, access to the beta phase is only granted with invitation codes. And yet, data from Dune shows that around 10,000 Ethereum (ETH) has already flowed to friend.tech by now, the equivalent of almost 17 million US dollars. What's going on.
About two weeks ago, the US crypto exchange Coinbase launched its own blockchain base and called on crypto creators to feed the new ecosystem with projects. This has been followed by friend.tech with the concept of monetizing reach power of influencers on X (formerly Twitter). You can buy shares in crypto celebrities through the app, start a chat with them, and potentially order tweets. That sounds something like a "meet and greet" that has become common in VIP pacts for concert attendance or at sporting events, selfie for fans with their idols included.
Yuga Cohler, one of Coinbase's chief developers, already calls friend.tech on X the "hottest new app on Base." He says the project is generating more revenue and transactions than leading NFT marketplace Opensea. But Cohler also wonders how friend.tech manages to move so much money and people, when in reality the app barely works and leaves important questions unanswered.
friend.tech on base – privacy not guaranteed
Two examples: Anyone who presses the button with "privacy policy" on friend.tech is put off with the simple reference to "coming soon." So you don't even know exactly what personal data the app collects and what the team wants to do with it. Or the story about servers being overloaded, as friend.tech itself admits on X .
But why crypto celebrities like Cobie or Hsaka nevertheless join the project is easy to understand. They can generate revenue in Ethereum with little exposure and also qualify for airdrops from a token that friend.tech plans to launch and potentially monetize. Skeptics, on the other hand, point to the team behind friend.tech, where previous NFT projects were suspected of being scams.
Conclusion: friend.tech – more than just hype?
It is too early to assess whether the friend.tech idea has enough substance to become more than a summer hit. But the app, with its millions in sales, is definitely proof that Coinbase's base ecosystem is attracting developers and users as a playground for new crypto projects. If you do manage to snag one of the coveted friend.tech invite codes, we'd like to echo the advice of DeFi expert Ignas: Use an anonymous email address to register with the app, because data protection and privacy don't seem guaranteed. Deposit Ethereum at friend.tech only from a new wallet specially filled for the app, because risks from scam to technological errors lurk. And be patient, because the friend.tech app is far from stable.
---