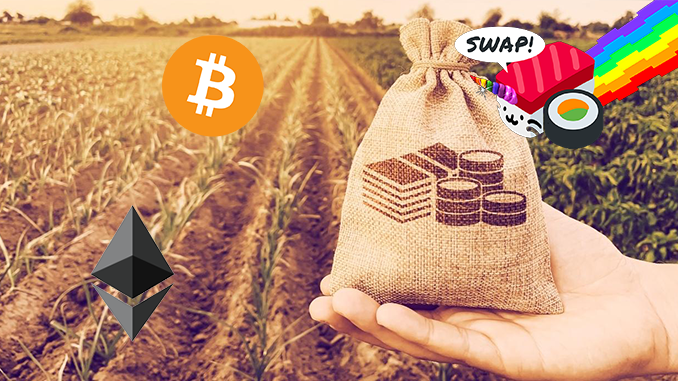 DeFi is the current top topic in the crypto scene and yield farming is probably the most important principle. What yield farming means and how it works, we explain here.
Yield Farming can be translated from English as yield-oriented agriculture. And what does this have to do with crypto currencies and Decentralized Finance (DeFi)? Well, quite simply: As a yield farmer, you use your assets in Ethereum (ETH) as seeds and make them available as liquidity for loan transactions. In return, interest is earned and you can harvest it. Smart Contracts secure the business automatically. Yield farming is basically all about earning the highest possible interest on deposits. DeFi protocols, which collect liquidity and constantly shift it towards the highest interest rates, help here.
Practical examples for yield farming
In the markets, DeFi projects with yield farming are currently overrunning at a high rate. Maker (MKR and DAI), Aave (LEND) or Synthetix (SNX) are early examples of user-friendly yield farming. With Uniswap, on the other hand, the protocol requires the user to work on the strategy. Compound (COMP) has shown how yield farming can be refined with its own token. In this concept, often referred to as liquidity mining, a token is distributed to all those who contribute liquidity in addition to the usual interest. This token is intended to serve as a ballot paper for future decisions, but also has the potential to be a freely tradable coin speculation. This idea was recently taken to the extreme by SushiSwap with SUSHI.
But here, too, there is already competition in the form of even more sophisticated DeFi protocols for yield farming, coupled with optimized user-friendliness. Binance, for example, initially listed SUSHI, but shortly thereafter launched Bella Protocol (BEL) and WING, two new yield farming DeFi tokens directly promoted by Binance. Other projects that have already attracted a lot of capital and attention are called yearn.finance (YFI), Curve Finance or Balancer – the list is growing rapidly.
Risks with Yield Farming
The biggest risk in yield farming is in the protocols established by smart contracts. If an error creeps in here, such as with YAM, investors must watch in disbelief as dreams vanish into thin air.
A second risk lies in the transaction fees. Yield Farming brings with itself that assets are shifted constantly and this so far mainly in the ecosystem of Ethereum (ETH) with ERC-20-Token. At Ethereum, the fees to be paid for this are called gas and have recently shot to rarely seen heights. Ethereum's block chain is technologically hardly up to the boom in yield farming, and so the fees increase to accelerate transactions as preferred. But these costs for gas can quickly eat up profits in yield farming. This is where a sober cost calculation for investors in terms of potential profits applies. It leads in the direction that it is usually not worthwhile to approach yield farming with smaller amounts.
The third major risk is seen by experts, as always with crypto-currencies, in attacks by cyber-criminals. In yield farming, you give your assets out of your hands, they move from the secure hardware wallet into liquidity pools. If you fall for a dubious platform or project, you run the risk of experiencing a DeFi fiasco. It should also be considered: At the moment, projects are started quasi overnight, often without a real audit of the technology in advance. Some people warn of a DeFi bubble that threatens to burst.
Video Tutorial: How to make money with Yield Farming
https://youtu.be/ghsuhtNC9b0
Conclusion: Yield farming – ingenious idea or risky concept?
Yield Farming shakes up the investment behavior of many in the crypto scene. The race for the best smart contract and the most efficient protocol in this field is in full swing. Not all of them will be successful and you have to sort out exactly which project you entrust your digital money to. But then you're in the middle of a fascinating concept, which might be called HODL 2.0, which takes DeFi from theory to practice.
---
All the main DeFi Tokens are traded on Binance. Open a Binance Account here and save 10% on fees for a lifetime.