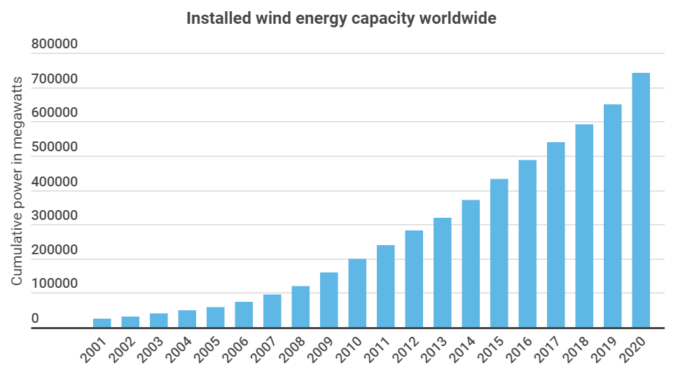 China accounted for 55.9% of wind power installations in 2020. As recently as 2010, Europe was still leading the way in terms of installed wind power, but since 2014 Asia, led by the so-called Middle Kingdom, has outstripped European countries, as shown in a new infographic by Block-Builders.net. 
Last year, wind power accounted for 23.5% of total electricity generation in Germany. The increase is quite remarkable; as recently as 2010, the share was just 6%. Yet expansion has recently been stagnating. About 770 new wind turbines were approved across Germany last year – representing a decline of 40% compared to 2015.
The reduction has been particularly pronounced in certain federal states. In Bavaria just three turbines were approved in 2020, compared to as many as 150 in previous years. Some experts attribute the shift in Germany to political decisions, such as the obligation to tender and spacing rules.
As the infographic shows, 83% of German citizens express a broad acceptance of wind turbines in their neighbourhoods, as found in a survey by YouGov. Nevertheless, the past few years have been fraught with numerous controversial discussions – some of which were based on false data. A few months ago, the responsible federal authority announced that the often maligned infrasound from wind turbines is weaker than claimed, and by no small margin: by a factor of 1000.