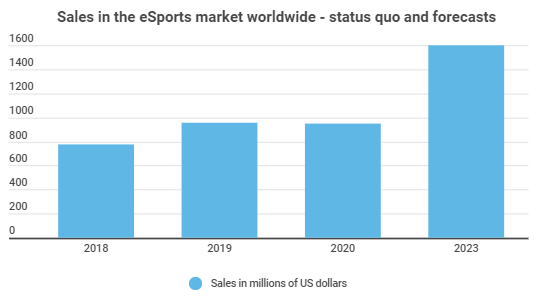 The gaming market is still on the upswing, with the eSports sector in particular enjoying growing popularity. According to a new infographic from Block-Builders.de, global revenues from eSports are expected to increase by 68% between now and 2023. This is drawing the attention of a variety of companies: Aldi, Lidl and Ikea are now also looking to profit from the gaming trend.
League of Legends continues to be the most watched eSports game by far. As the infographic illustrates, this game accounted for 34 million viewer hours in January alone – and that's just on the Twitch platform.
The high level of interest is drawing the attention of various companies. Discounters Aldi and Lidl recently signed several eSports players. Furniture giant IKEA also recently showed signs of recognising the gaming industry's potential, with the company announcing the introduction of furniture collections specifically for gamers.
Rapid Increase
According to the "German Entertainment and Media Outlook 2020", video game sales are projected to rise sharply in the next few years. Market experts see great potential in the social/casual games segment in particular, where the increase is expected to be around 22% by 2024.
This development is also causing a stir on the stock exchange floor. The VanEck Gaming ETF has risen by 72.5% within the last year, a period during which the DAX rose by just 17.1%. Games companies such as Activision Blizzard and Nintendo have been among the major winners of the pandemic, and the end of the stock boom is not yet in sight.