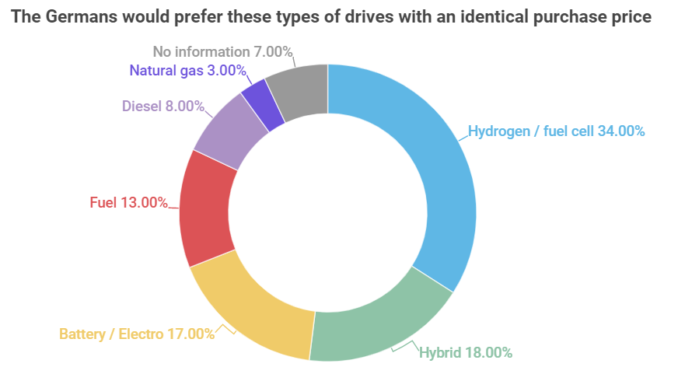 72% of Germans would opt for a vehicle with an alternative form of propulsion if the price was not higher than that of a conventional combustion engine. In 2017, this figure was just one in two. This is the result of a new infographic from Block-Builders.de. Among the various propulsion systems, hydrogen vehicles are much more popular than hybrids, electric vehicles, gasoline engines & others.
34% of Germans would favour a hydrogen vehicle over other forms of propulsion at the same purchase price. Hybrids rank second, followed by battery-powered electric vehicles. Petrol and diesel stand at just 13% and 8% respectively, as the graph shows. These are the findings of a survey by "dena", the German Energy Agency.
Nevertheless, H2 mobility remains a niche field, while sales of e-vehicles are rising sharply. Tesla alone put 367,500 electric vehicles on the road last year. A glance at forecasts suggests that this ratio will not change much in the coming years.
According to a survey from "Roland Berger", by as soon as 2030 every 30th vehicle could be electrically powered. The market penetration of H2 cars by then is forecast at a mere 3%. In the long term however, hydrogen vehicles could become even more relevant, and some analysts claim that electric mobility is just an interim solution. According to studies, one in three vehicles could be equipped with hydrogen propulsion as soon as 2050.
Advantages and Disadvantages of Hydrogen and Electromobility
While both propulsion systems score points for being (at least locally) as emission-free as possible and not producing any engine noise, there are also differences. H2 vehicles can for example be refueled rapidly, while long charging times are a source of criticism for drivers of electric cars. However, there is still much catching up to do in terms of hydrogen filling stations, and electric vehicles are currently much cheaper.
Everyone's Talking About Electric and Hydrogen Shares
Meanwhile, a glance at the price development of numerous electric mobility and hydrogen stocks indicates that these industries seems to be leading the way. As the infographics show, the stock market values for both sectors has increased considerably. The strongest gains, however, are in the hydrogen sector. The price of shares in ITM Power increased by 958% in a 5-year review. Powercell Sweden and Nel Asa also recorded substantial gains of 582% and 470% respectively. E-mobility industry leader Tesla, on the other hand, was also able to increase its market value significantly with growth of 222%, albeit less disruptively.
The future of the automotive industry seems more uncertain than ever. In addition to competing drive systems, tech companies such as Google are increasingly focusing on developing vehicles – whether or not this will be to the chagrin of traditional car manufacturers remains to be seen.