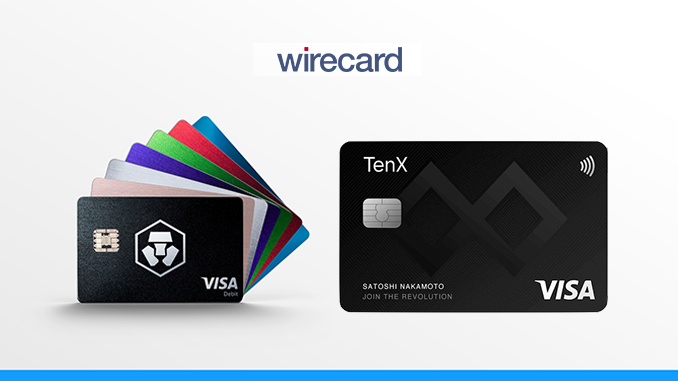 In connection with the insolvency of Wirecard, the crypto credit cards of Crypto.com and TenX were also blocked last week. Now they have been unblocked again after the British Financial Services Authority FCA allowed a Wirecard subsidiary to resume operations.
The wheel around the Wirecard scandal is turning fast, in the context of crypto credit cards even positively. In the UK, the FCA has announced that Wirecard UK may once again operate actively under certain conditions. It is precisely at Wirecard's subsidiary there as a credit card issuer that TenX and Crypto.com are FinTech customers. Their credit cards were therefore blocked for the and can now be used again thanks to the decision of FCA.
TenX announced the good news on Twitter and promised customers that it would continue to monitor developments in the Wirecard case. TenX is the only provider in Germany of "genuine" crypto-credit cards that allow Bitcoin, Litecoin and Ethereum to be used as a means of payment directly and without exchange in Fiat.
Crypto.com was also pleased with the FCA's decision and passed it on to customers via blog post. Crypto.com reminded customers that they had transferred all funds from their credit card account to the wallet at Crypto.com and therefore, before using the credit card again, it must first be "recharged" with Fiat.
What happens next with crypto credit cards?
In the Wirecard corporate network, there are apparently parts that were not directly involved in the alleged balance sheet forgery and are financially on their own. According to experts, Wirecard UK and Wirecard Card Solutions (WCS) are among them. The FCA as supervisory authority will want to avoid taking a rollover course and ordering the deactivation of credit cards again.
However, both Crypto.com and TenX are apparently already looking for a new financial service provider to issue their credit cards. The competitor of Coinbase was accepted by Visa as a "principal member" in February and can therefore issue credit cards itself. The biggest criticism of the crypto credit cards from Coinbase, however, are the fees of 2.49 percent and more when used in combination with crypto currencies.
Conclusion: Loss of trust in TenX and Crypto.com due to the bankruptcy of Wirecard?
If you, as a TenX or Crypto.com customer, were affected by the temporary suspension of credit cards yourself, you will probably think twice about whether you want to continue to trust these offers. According to our information, the credit balances were safe at all times, as they were not stored at Wirecard. It is unclear whether TenX and Crypto.com currently accept new customers for credit cards. The Coinbase Card as an alternative is at least worth considering.
---
Best place to buy Bitcoin: