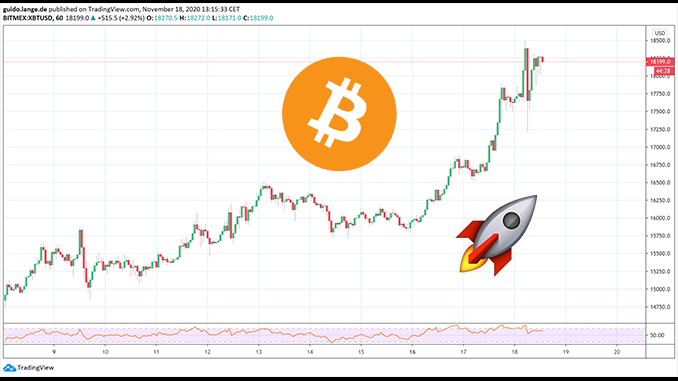 Bitcoin is approaching its all-time high of 20,000 US dollars these days and mass media are also increasingly reporting on BTC. There are good reasons for it, why Bitcoin up-to-date clearly wins in value.
In the night to today's Wednesday Bitcoin (BTC) noted at times over 18.000 US Dollar and confirmed thereby its upward trend continuing for months. The nut/mother of all crypto currencies is suddenly again in all mouth and makes daily headlines also in mass media, which concern themselves otherwise hardly with Bitcoin. For a risers just like for Bitcoin veterans the cause study is exciting. What brings BTC this golden fall and what reasons speak for the fact that the price curve is still far from reaching its peak?
1. Corona will keep the world in suspense in 2020. The pandemic will have macroeconomic consequences. The US Federal Reserve as well as the European Central Bank (ECB) have relaxed their monetary policy to an unprecedented extent and are making massive amounts of money available. Politicians are setting up huge aid programs for the economy and consumers. All this results in high new debts and inflation threatens to rise. Bitcoin has no problem with inflation, because the maximum amount of all BTCs is irrevocably fixed at 21 million. Bitcoin Halving, which takes place every four years, serves as an additional brake on inflation and only proved its worth again in May this year. Thus ever more humans recognize Bitcoin as a store of value with profit chances and put their capital (partly) in Bitcoin instead of on euro or US Dollar for reserves to trust.
2. Price driver for Bitcoin was and is also the still recent decision by PayPal to open its services for BTC. As a result, many of PayPal's more than 300 million customers will have uncomplicated contact with Bitcoin for the first time. At the same time the step of PayPal is a psychological accolade for Bitcoin, because the Zahlungsdienstleister is known as respectable and permits for BTC the trade and use in law-conformal environment. It is expected that further Dienstleister and banks will follow the example of PayPal and address so new society groups for Bitcoin directly.
3. Large companies have made a public commitment to Bitcoin. MicroStrategy, for example, listed on the NASDAQ, has almost completely shifted its cash reserves of a good $400 million to Bitcoin. Shortly afterwards, another heavyweight from the USA took a similar step with Square and its Cash App. Both companies were rewarded for their tactics of countering the threat of inflation with Bitcoin by the stock exchange with significant pulses for their shares. It is considered likely that we will see such decisions per BTC in other large companies as well.
4. Interest in crypto currencies is growing again. Whether mirror, FAZ and Tagesschau, whether New York Times or CNN – media take up the topic crypto currencies again concentrated and inform their public. The price increases with Bitcoin are thereby a gladly selected Aufmacher. Also the search inquiries with Google to Bitcoin increase again. Thus a situation results, in which ever more citizens concern themselves seriously with BTC and include Bitcoin into their considerations, how they administer their fortune. Every report on Bitcoin is basically advertising for BTC, even if not every journalist thinks much of crypto-currencies.
5. Central banks around the world are pressing ahead with their plans to respond to the wishes of the population, banks and industry with state-guaranteed digital currencies. The ECB now expects a decision on an E-Euro as early as the beginning of 2021, while Deutsche Bank sees no alternative to an E-Euro. In Sweden, the e-Krone is already being tested, and in China a CBDC is probably imminent. Speed, security and low fees are always cited as reasons to take the step towards a CBDC. Thus crypto currencies led by Bitcoin are gaining trust in society in general.
6. Bitcoin's supply hardly keeps up with demand. Bitcoin miners can afford with the current prices to bring only a part of the freshly dug BTC on the market to cover their operating costs. The other BTCs are holding them back in anticipation of further increases in value. In any case, only around 900 Bitcoin are produced daily. Even investors who have held Bitcoin for a long time are predominantly of the opinion that there is still a lot of room for improvement in the price of BTCs and are not even thinking of selling their Bitcoin. 60 per cent and more amounts to the portion of the theoretically circulating Bitcoin, which slumber for over one year in the Wallets, HODL one calls that in the crypto scene.
Already each of these six reasons would have already alone for itself good Potenzial to fix the price curve of Bitcoin in an upward movement. Together they form a market surrounding field, in which casually said all indications on green stand for Bitcoin. Because more clearly than ever before, Bitcoin plays out its advantages as a global and independent substitute currency that not only meets the requirements of the online world in the 21st century. A good 10 years after the birth of Bitcoin, the time is ripe for the leap to an acceptance of which early supporters could only dream. This is expressed also in increasing Professionalisierung of the crypto industry, which is represented by crypto stock exchanges such as Binance, Coinbase or eToro in this country legally and well visibly.
Conclusion: Christmas is still ahead for Bitcoin
A look at the historical charts of Bitcoin gives reason to believe that Bitcoin is just warming up for a spectacular bull ride these days. Because the previous all-time high with the previous run of 2017/18 did not coincidentally fall into the holidays around the turn of the year. Christmas time still often means a 13th salary and New Year's Eve brings with it the willingness for new beginnings. It would not be surprising if the good autumn for Bitcoin was followed by a December that broke previous records. Have you already thought about Bitcoin as a Christmas present? Because even if temporary price corrections at BTC are of course within the realm of the possible – the forecasts even from the classic financial world are accumulating, which put Bitcoin in the medium term at prices of 90,000 US dollars and more.
---
Best place to buy Bitcoin: