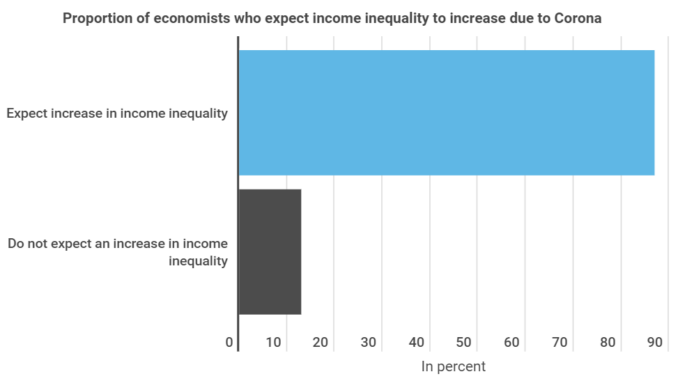 87% of economists expect the pandemic to lead to higher income inequality. Particularly dramatic consequences are expected in developing and emerging countries, although the great wave of debt may also be looming over Germany. This is shown in a new infographic from Block-Builders.de, illustrating recent developments around the economic divide. 
The 1,000 richest billionaires took only 9 months to recover financially after the outbreak of the pandemic. By contrast, it could take up to 10 years for the world's poorest people to reach pre-Corona levels.
As of February 2019, the 10 richest Germans owned around $179.3 billion US. This compares to $242 billion US in December of last year. This came about over a period in which many people suffered hardship in the face of the pandemic, as revealed by data from a recent "Oxfam" study.
Meanwhile, market experts stress that the worst is yet to come. "The wave of debts is still ahead of us", emphasizes debt counsellor Elisabeth Mankertz.
Absolute and Relative Poverty
However, while there is at least an economic safety net in Germany, the tragic extent of the pandemic is most evident in the 23 countries of the global South.  According to "Welthungerhilfe", 40% of citizens in these countries report eating less and worse since the outbreak of the pandemic.
The number of those with less than $1.90 US per day – worldwide, that is – has also risen from 645 million to 733 million. The number had been steadily decreasing year on year in the last few years, but the Corona crisis has started to reverse the trend.
As Different as Night and Day
While many businesses in the gastronomy, retail and other sectors currently fear for their livelihoods, the situation on the stock exchange is quite different. Within the last 12 months, there has been a real price rally for a variety of assets. The price of bitcoin has climbed by around 240%, and some hydrogen shares have made gains of a similar magnitude. Even comparatively conservative asset classes such as gold, silver and real estate have risen considerably in price.
The pandemic seems to be working in investors' favour from a financial point of view. On the one hand. However on the other, securities were already a lucrative invesment before the crisis. Wages in the leading 7 industrialized countries rose by an average of 3% between 2011 and 2017, while dividends climbed by an average of 31%.
Poverty and the threat to economic livelihoods should be taken seriously – both in Germany and worldwide. However, since it is not a zero-sum game, "poor" and "rich" should not be played off against each other here – in all this, it should not be forgotten that investments also offer diverse opportunities to the less wealthy.