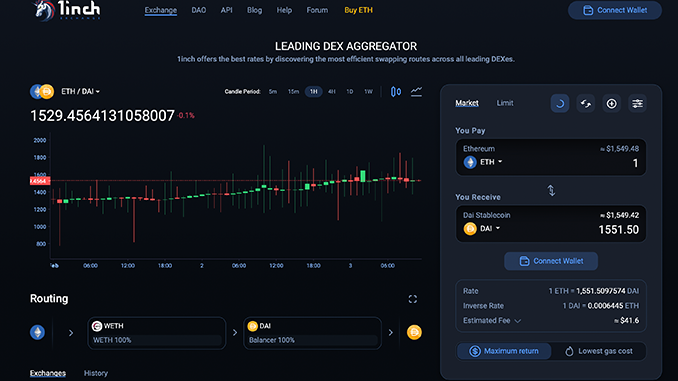 The public hype around DeFi has cooled down, but innovative projects continue to emerge in this branch of the crypto industry. As a result, 1Inch is gaining a lot of recognition among experts and the associated token is increasing in value.
While Bitcoin and Wallstreetbets dominate the news, business in the DeFi division is far from down. Tokens from flagship projects like Uniswap (UNI) and Chainlink (LINK) have posted all-time highs in recent weeks and new projects are entering the market. One particularly exciting one is called 1Inch and is worth a closer look. Because 1Inch scores with a so far unique concept and is freely tradable through its governance token 1Inch since Christmas 2020.
1Inch for price comparisons in the DeFi division
The daily business in DeFi plays to a large extent on decentralized crypto exchanges (DEX) such as UniSwap or SushiSwap. These DEX do not know traditional order books, but handle trading among cryptocurrencies via pools. With this, comparing current rates was a tedious task and requires manual labor. This is the only place where 1Inch has been making a difference since the second half of 2020. The platform describes itself as a "leading DEX aggregator" and continuously scans a dozen or so decentralized crypto exchanges for the current exchange rates for Ethereum for USDC or Wrapped Bitcoin (WBTC). Thus, 1Inch fulfills the task of a price comparison engine and indeed often shows horrendous differences.
Now, 1Inch goes one step further: Via a clear interface, 1Inch allows users to immediately initiate the desired trade under the best conditions. To the price comparison thus order and supply come, everything from a hand and remarkably comfortably. Even the expected transaction fees, which are often quite high for DeFi on the Ethereum blockchain, are transparently quantified by 1Inch before the trade.
1Inch has now reached version 2.0 in its further development and already occupies a place among the 5 largest DEX with its daily moved volumes, mind you as the only one of the aggregator type. On December 24, 2020, 1Inch was also launched as a governance token.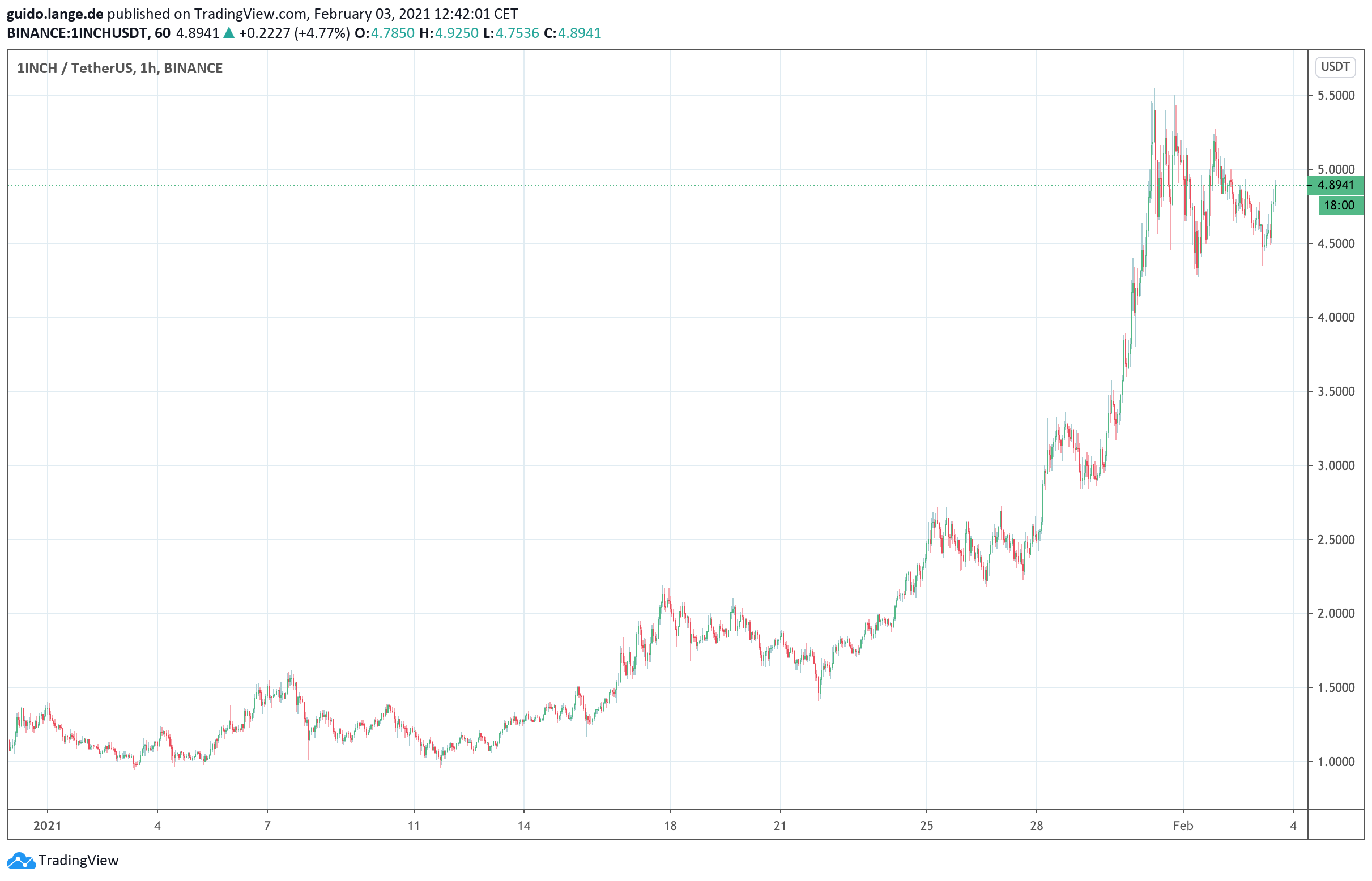 Conclusion: Innovation through 1Inch for DeFi
Behind 1Inch are developers Sergej Kunz and Anton Bukov, who presented their idea during a hackathon in 2019. They quickly raised $15 million in seed capital from established names like Binance Labs and Pantera Capital. Already, 1Inch is a force to be reckoned with in the DeFi space, and brokered revenue is steadily increasing. Those who do not use 1Inch for their own strategies at DeFi can profit from the success through the altcoin. The most important trading venue for the 1Inch Coin is Binance, where 1Inch can be bought and sold against Tether (USDT) or Bitcoin. Since 1Inch addresses an actual use case and does so in the growing DeFi market, many experts see further potential for positive price developments. And 1Inch is also constantly improving its platform and working on additional services. So it seems very likely that this is not the last we will hear of 1Inch.
---
Open a Binance Account here and save 10% on fees for a lifetime.