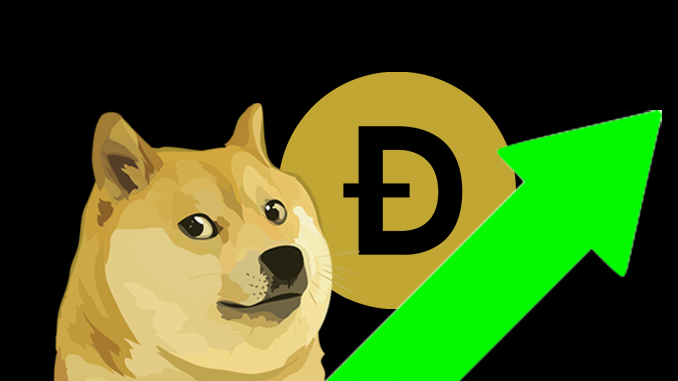 Dogecoin (DOGE) has increased in price by a staggering 400 percent since yesterday, Thursday. Observers see parallels to the stock market spectacle, which was to be experienced with GameStop and also AMC.
The winner of the day is called Dogecoin (DOGE) without ifs and buts: The price curve of the cryptocurrency, which is often ridiculed as a fun coin, has turned positive by around 400 percent within 24 hours. With a new all-time high of 0.077 US dollars, DOGE now even appears in the top 10 of the most important cryptocurrencies by market capitalization. When researching the causes for the huge increase in value of Dogecoin, one quickly comes across the almost unbelievable stories that have recently played out on the classic stock exchanges with the stock of GameStop. There, the markets witnessed a "pump and dump" executed with all consistency, with private investors riding deep into the red by coordinating Wall Street traders established on Reddit ("Wallstreetbets").
The strategy pursued at GameStop to corner short sellers then spread to other securities such as AMC Entertainment. Then, however, the situation forced major trading platforms to suspend trading in the shares, which had suddenly become highly speculative. After Robinhood in the U.S. and Trade Republic in Germany delisted GameStop and AMC or no longer offered them for sale, investors willing to take risks are apparently looking around for new targets. In the process, the eye falls on Dogecoin (DOGE). After all, at least crypto exchanges have so far not had a reputation for blocking the trading of certain coins in turbulent situations.
Wallstreetbets switch to DOGE
On Twitter, for instance, a self-proclaimed chairman of said Reddit group Wallstreetbets hypocritically asked, "Has DOGE ever actually been at $1?" And while some of the Wallstreet rebels were still looking around for alternatives to Robinhood or Trade Republic, others were enthusiastically jumping on Dogecoin. After all, this cryptocurrency is the declared darling of Tesla CEO Elon Musk and he had shown solidarity with Wallstreetbets. No sooner said than done – so now DOGE is the star of the hour.
Dogecoin had already experienced hype in July 2020, when a TikTok Challenge caused the price to explode. Also at that time, the price target was 1 US dollar and was supposed to make all participants happy through profits. At that time, however, the price increase stopped at around 0.004 US dollars – but now it has already reached almost 0.08 US dollars. In such moments, stock market gamblers are happy. It is difficult to estimate where Dogecoin is headed. The situation is highly volatile and DOGE itself actually has no real use case, apart from Dogecoin as a means of payment at Pornhub.
Conclusion: Bold bets with DOGE
Dogecoin can be traded at Binance with leverage and also as futures, so the prerequisites for further price capriciousness are given. However, Reddit speculators do not want to let go of GameStop, AMC and other selected targets just yet. If you have weak nerves, you'd better get some popcorn and watch the action passively via the stock ticker. If, on the other hand, you are in the mood for a thrill and far above-average profit opportunities, you should take an active role – and hopefully remember that winners on the stock markets are always accompanied by losers.
---
Open a Binance Account here and save 10% on fees for a lifetime.