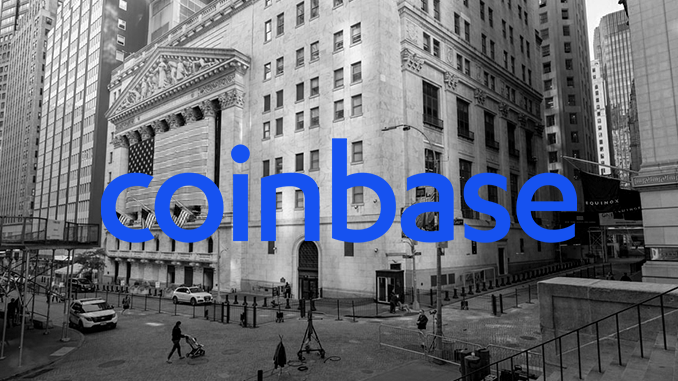 The eagerly awaited IPO of Coinbase is nearing the finish line: the U.S. crypto exchange announced that it will choose the "direct listing" route", i.e. a direct placement. This means that Coinbase could debut on the stock exchange very soon.
Coinbase is going turbo on its exchange plans. In a shortblog post, Coinbase announced that it is aiming for a so-called "direct listing" on the stock exchange. This is still a fairly new method, which was chosen on the New York Stock Exchange by Spotify and Slack, for example. In such a direct listing, no new shares are issued and thus there is no preceding pricing process. This effectively means that Coinbase can debut on the stock exchange without any further lock-up period as soon as the U.S. Securities and Exchange Commission (SEC) has given its general okay. Coinbase had formally started the SEC approval process on December 17, 2020.
Future Coinbase stock is already trading now
Since Coinbase's ambitions became public, the venture has electrified investors. Based on previous funding rounds, a valuation of at least $8 billion initially seemed certain for Coinbase. But the available information on Coinbase suggests a valuation in quite different orders of magnitude – at least if one trusts the estimates that can be read at FTX. Because this trading platform already makes it possible to trade Coinbase shares even though they are not yet officially on the market. In doing so, FTX helps itself with the legally permitted trick of already mapping the future Coinbase share as a token. FTX has already used this trick to organize an extremely successful pre-market for AirBnB. Since the listing there, investors at FTX have sent Coinbase to a price that suggests a valuation of well over 60 billion US dollars.
Obviously, not only Coinbase's user numbers (more than 35 million customers) and the slowly but steadily growing daily turnover (currently around 3.5 billion US dollars) are viewed positively. For Coinbase, there is also a market environment in which the Bitcoin boom is attracting institutional customers. MicroStrategy, for example, trusts Coinbase with its Bitcoin strategy and also for US universities Coinbase is the first choice for investments in Bitcoin. In addition, Coinbase will be the first major company from the crypto industry to go public on a traditional stock exchange – thus enabling indirect participation in the growing crypto market.
Conclusion: countdown for stock market debut of Coinbase
The "direct cunning" of Coinbase promises pure excitement. The fact that there is no pricing process means that the free market will decide from the very first minute what value it assigns to Coinbase. If this turns out to be positive, Coinbase itself could become a factor that sets new impulses for the price curve of Bitcoin (BTC) and leading altcoins.
---