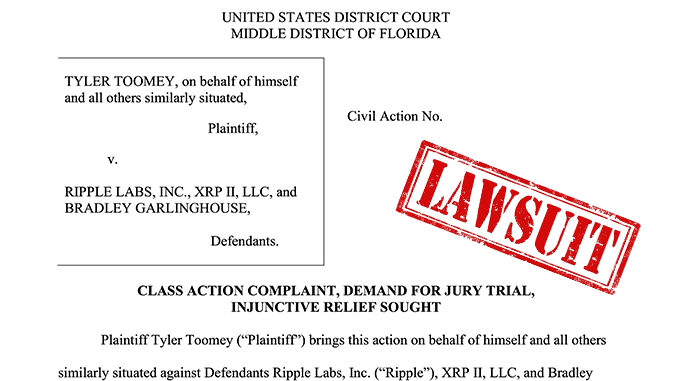 Ripple (XRP) is getting deeper and deeper into the maelstrom of legal disputes: In the US state of Florida, another class action lawsuit is now pending, which claims damages from Ripple because of false information when selling XRP.
Anyone observing the situation with Ripple and XRP can come to the conclusion: 2021 will be a year in which most of the time will have to be spent in court for the crypto project that was often admired in the past. After the U.S. Securities and Exchange Commission (SEC) filed a billion-dollar lawsuit against Ripple on December 22, 2020, not very Christmas-like, small investors are now also regaining hope of being able to obtain damages from Ripple because of XRP. In the US state of Florida, a private individual filed a class action lawsuit against Ripple, specifically citing the SEC's push.
XRP and Ripple – was everything above board?
While the Florida plaintiff is only claiming an initial investment in XRP around $100, the class action could be joined by other disappointed investors. Private class action lawsuits against Ripple are also underway in other U.S. states; we have reported on them here and here. At the core of these lawsuits is always the financially explosive question of whether Ripple was allowed to sell XRP in the U.S. at all as it was handled. Because the plaintiffs are of the opinion that XRP represents in reality a security (Securities) and therefore does not belong without permission of the SEC and far-reaching information for investors on the market.
After much hesitation, the SEC then also decided to actively get involved in the case of Ripple and XRP itself. In doing so, the SEC basically sides with those who accuse Ripple of unfair behavior with the sales of XRP. This was done systematically and knowingly, according to the SEC, Ripple founders had thus also generated private giant profits through XRP. In total, the SEC comes to at least 1.3 billion U.S. dollars in damages, which Ripple caused by unauthorized XRP sales. In the proceedings SEC vs. Ripple (XRP) first dates are planned for February. Ripple categorically denies the allegations and fears through CEO Brad Garlinghouse that an example is to be made of XRP against the crypto industry in the United States. However, the hoped-for solidarity of the US crypto scene has so far failed to materialize; on the contrary, leading US crypto exchanges have already delisted XRP in view of the delicate situation.
Conclusion: Ripple and XRP are reeling – is the knock-out looming?
If Ripple fails to reach an out-of-court settlement with the SEC over XRP, it is likely to face a fight for survival in various courts in the US. Because honestly, justified skepticism in the direction of whether XRP should not be classified as securities has been circulating for years. Ripple CEO Garlinghouse conjured up a promising 2021 this week – but this scenario is built on very thin ice in view of the considerable litigation risks. Right now, news from before the courts seems more likely to dominate Ripple and XRP's fortunes this year. If you as an investor are nevertheless thinking about getting into XRP at the current low prices, then you will also find other reasons than "only" legal ones here, which at least cast doubt on a sustainable performance of XRP.
---
Best place to buy Bitcoin and XRP: