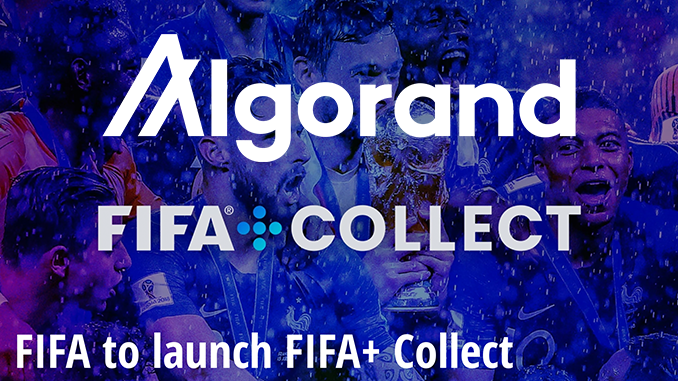 FIFA will offer exclusive NFTs for the 2022 World Cup in Qatar. In terms of technology, Algorand (ALGO) will come into play here as the basis. Algorand has been FIFA's official blockchain partner since May.
The World Cup, which starts on November 20 in Qatar, is definitely controversial in the run-up. But organizer FIFA is nonetheless convinced it can get fans so excited about the big event in the weeks leading up to it that they will buy exclusive NFTs. In a press release the launch of a platform called FIFA+ Collect is announced for this September. Already in May, FIFA had introduced Algorand (ALGO) as an official blockchain partner. Logically, then, the NFTs for the World Cup will also be organized technologically via Algorand.
NFTs (Non-Fungible Tokens) are immutable crypto coins that document an owner and often carry creative content. So, with deductions, they could also be compared to collectible tokens. FIFA, for example, promises "iconic moments" of previous World Cups that have been captured in the NFTs. The first examples are to follow shortly and will then also be released for sale. Their status will then be recorded in the blockchain in a tamper-proof manner via Algorand. According to FIFA, the purchase of World Cup NFTs will not only be possible with ALGO, but also with other (crypto)currencies and via various payment methods. Accordingly, the FIFA+ Collect project is to be extended to women's soccer and marks the first visible result of the cooperation with Algorand.
But it remains to be seen whether fans will actually be willing to open their wallets for a digital picture of Mario Götze's winning goal in the 2014 World Cup, for example. In the U.S., NFTs from the world-famous NBA basketball league have been quite successful for several years under the title "Top Shot" and have long since formed a secondary market where collectors trade rare individual items.
Conclusion: Algorand not the only crypto partner of the World Cup
It is not known how much Algorand will pay for its exclusive partnership with FIFA, which is initially contracted until 2023. Official sponsors of the 2022 World Cup include crypto exchange Crypto.com, which is believed to have paid at least US$25 million for it. From Tezos (XTZ) in Formula 1 to FTX in e-sports and fan tokens from famous soccer clubs – sports sponsorship is a trend for the crypto industry. This is also shown in our infographic on the topic. To what extent this also pays off for sponsors and cooperation partners is difficult to judge. The price curve of Algorand has not yet reacted noticeably to the announcement of FIFA+ Collect.
---