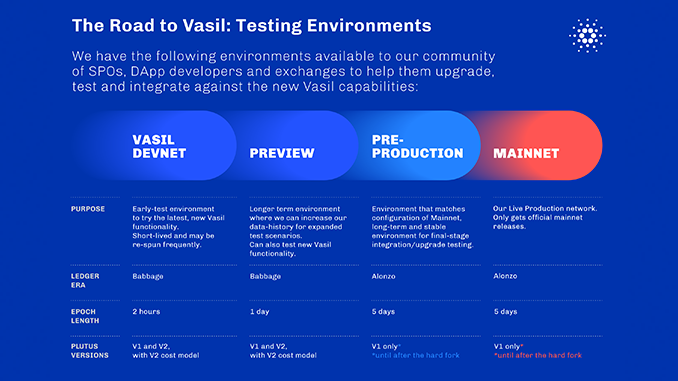 After repeated postponements, Cardano has now set September 22 as the date for the Vasil upgrade. The news sent ADA up a good 10 percent. Vasil is supposed to improve Cardano technologically noticeably.
Cardano (ADA) gained a good 10 percent in price over the weekend, making it the positive outlier among the top global cryptocurrencies. There is a simple reason for the markets' optimism: after months of back and forth, Cardano's Vasil upgrade has finally been scheduled for a date when it is no longer expected to be postponed again. Input Output as the crypto company behind ADA announced September 22 as the date for the launch of Vasil together with the Cardano Foundation via Twitter.
Three indicators had been defined in mid-August that needed to be met before a date could be set for Vasil. The overview page shows that these conditions have now been met or are within reach. Meanwhile 87 percent of the new blocks in the blockchain of Cardano are written via the Node software in version 1.35.3; at least 75 percent were required here. The clear majority of the most important crypto exchanges for ADA state that they have already completed their preparations for Vasil or are working on it. Here, Cardano wants to achieve before Vasil that 80 percent of the liquidity mapped for ADA by crypto exchanges can switch to Vasil. In addition, of the top DApps for ADA by volume, ten have now signaled support for Vasil; this was mentioned as a third prerequisite.
Input Output recalls that Vasil is expected to increase network capacity at Cardano while reducing transaction costs for ADA. In addition, the programming language Plutus, which is used for smart contracts at Cardano, is to receive instructions through Vasil. This aspect is considered critical, as smart contracts have so far proven to be of little practical use with Cardano, thus blocking new application purposes for ADA. A second upgrade, Hydra, planned for 2022, is expected to bring further improvements to Cardano.
Cardano founder Charles Hoskinson said in a video message on the launch date for Vasil that the development work has proven enormously taxing. "It's probably the hardest update we've had to tackle as an ecosystem," Hoskinson said. To avoid future overload among ADA's internal and external developers, Hoskinson said processes need to be improved.
Bottom line: anticipation for upgrade Vasil at Cardano
The second half of September is now expected to be dominated by two major upgrades for the crypto scene. First, Ethereum (ETH) is due for "The Merge" on September 15, with which the number two cryptocurrency will change its protocol and thus take a giant step towards future viability. Cardano is expected to follow a week later with Vasil. ADA is currently number 7 among the most important cryptocurrencies by market capitalization, but urgently needs use cases to defend this position. The last time ADA hit the heights was in September 2021, when the upgrade Alonzo went live, but this did not come close to meeting high expectations. Thus, the current Vasil upgrade is a litmus test for Cardano, which should also have a further impact on the price curve.
---