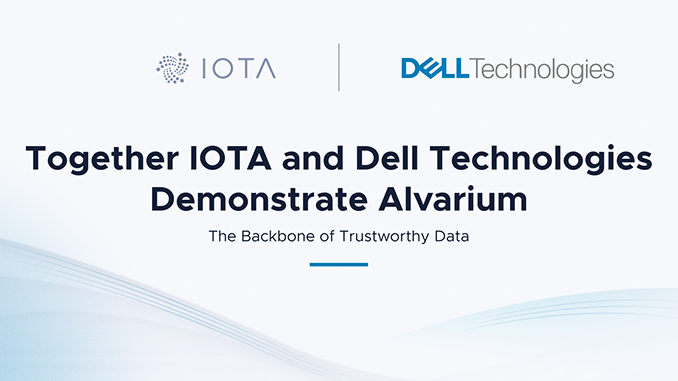 The IOTA Foundation, together with Dell and Intel, will soon present the Alvarium project. Alvarium is intended to automatically check the integrity of data in the Internet of Things and thus also guarantee legal security.
Good news for IOTA: the cryptocurrency's value has surpassed $1 for the first time since 2018, making IOTA one of the day's winners. Even better, this price jump seems to have a solid reason. Because earlier, the IOTA Foundation reported considerable progress via blog post. The Alvarium project, which was launched in the fall of 2019, has been completed to the point that it will be presented to interested parties and potential customers on February 24 with cooperation partners Dell and Intel.
Background on Alvarium with IOTA
Alvarium is intended to serve as a "Data Confidence Fabric", which roughly translates as a structure for data confidence. This is a solution to a real challenge in the Internet of Things (IoT) field. Because when sensors and other data sources feed information into a network, it is important that these are checked for possible manipulation or other inconsistencies before they are automatically processed. In addition: In the IoT, devices from different manufacturers communicate with each other.
With its Tanglenet, IOTA already has a network that is optimized for the IoT and is expected to make great technological leaps forward in 2021 with the IOTA 1.5 and 2.0 versions. Intel and Dell, in turn, as representatives of the large computer industry, are in constant contact and exchange with manufacturers of Internet-enabled devices of all kinds. This consortium now wants to put Alvarium into practice with concentrated efforts.
A recent whitepaper on Alvarium can be found here and the link to the Alvarium webinar on February 24 is here. In the announcement, the IOTA Foundation emphasizes that Alvarium will also meet demands from compliance departments and regulators.
Conclusion: Optimism at IOTA
For all the technically justified criticism of IOTA, it seems that 2021 will also finally achieve presentable results. Alvarium with the renowned partners Intel and Dell promises not only prestige, but probably in addition chances for monetization. In any case, the crypto markets have clearly rewarded the news about Alvarium and IOTA and let investors breathe again, at least temporarily, after a long dry spell. Whether the positive trend for IOTA will continue remains to be seen.
---
Best place to buy Bitcoin and IOTA: